Top luxury hotels in Seoul, Korea
Top 6 Luxury Hotels in Seoul
Booking the best accommodation for your trip to Seoul can make your stay as pleasant and unforgettable as possible. Here are 7 luxury hotels in Seoul that continue to receive positive reviews from travelers:
1. Lotte Hotel
This hotel holds around 1,486 rooms. It can be found at the heart of downtown Seoul. It offers a clear scene of Korean hospitality so it is no longer surprising why it continues to invite a large group of celebrities and dignitaries. It has onsite recreation facilities including the extensive fitness center that can be used just for a small fee. The fitness center has exercise equipment, sauna and indoor pool and offers salon/barber services and massage treatments. It also features numerous dining options that offer Japanese, Chinese, Korean and European cuisines. Lotte Hotel also features a cocktail bar, wine bar, lounge, concierge services, business center, banquet and meeting space and duty free shops.
2. The Shilla Jeju
This is one of the best luxury hotels for you if visiting the breathtaking Jeju Island is part of your itinerary. The hotel overlooks the Pacific Ocean and provides a spectacular view of the Jeju Island. The hotel is set in a private 21-acre cliff-top garden. It is one of the premier destinations for Jeju travelers, attracting world-class conferences and tourists from all parts of the world.
3. InterContinental Seoul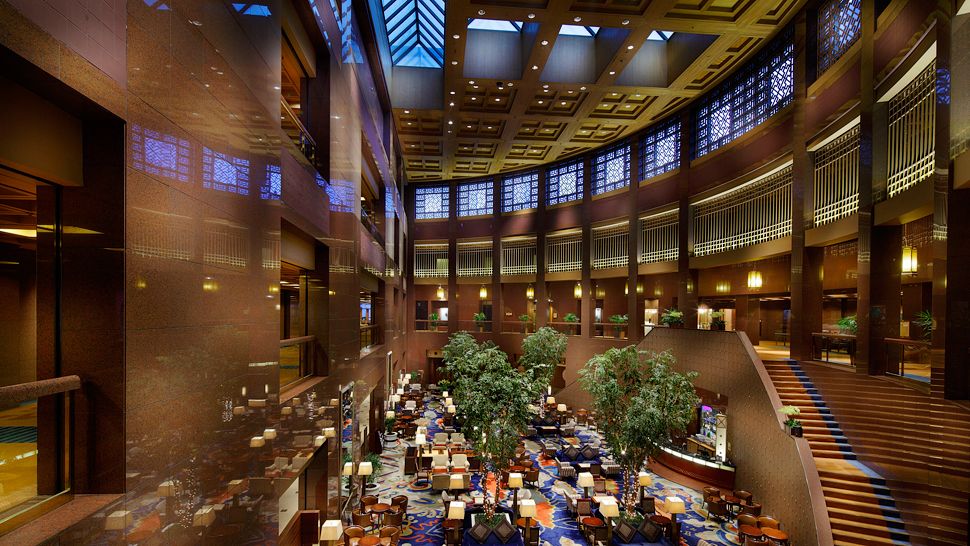 Intercontinental Seoul is considered as a one-stop business and travel destination. One thing enjoyed by hotel guests is that they are given the chance to conveniently access the COEX Mall which holds more than 200 shops, the World Trade Center, duty-free shop, City Air Terminal and COEX Convention and Exhibition Center. The hotel features the most advanced technology in terms of communication services and facilities. It has around 653 guest rooms, a lounge and deli shop, fitness club which features outdoor spa, sauna, gym facilities, swimming pool and golf practice room, and food and beverage outlets.
Related posts:
Best budget hotels in Seoul, Korea
4. Imperial Palace Suite
This hotel is a 10-minute ride from Olympic Stadium, Korea World Trade Center, Youngdong shopping district and express bus terminal. It features new concepts when it comes to sauna and these concepts are integrated into various facilities including the Event Bath, Oriental Dock, Finish Dock, Waterfall Bath, Fountain Bath, and Hinoki Bath. It also features numerous on-site recreational facilities such as the temperature-regulated indoor pool, hot tub, aerobics studio, squash court and health club.
5. The Westin Chosun
This hotel is located at the heart of the business district in Seoul. Financial institutions, government offices and embassies can also be reached by walking. It is ideal for travelers who also visit Korea for business. It features the largest rooms in Seoul. It caters to the needs of international and business executives.
6. Park Hyatt Hotel
This 5-star luxury hotel is set in a solid and stylish 24-story modern building. It has exclusive recreational facilities that offer stunning panoramic views of Seoul. The hotel rooms are also equipped with floor-to-ceiling windows, high-speed internet, work area, dining table and king bed covered with Egyptian cotton linens.
Related posts:
Best budget hotels in Seoul, Korea