Top 10 best budget hotels and hostels in Istanbul, Turkey
10 of the best budget hotels and hostels in Istanbul
Source:
http://www.theguardian.com/travel/2011/sep/14/10-best-budget-hotels-hostels-istanbul
Istanbul has hostels and hotels to suit everyone's budget and taste, whether you're after old-fashioned grandeur or modern simplicity. Rough Guide expert Terry Richardson picks the best
• As featured in our Istanbul city guide
Hanedan Hotel
The Hanedan, a budget accommodation option in Istanbul with views over the Aya Sofya.
If you're going to stay around the old city's main tourist drag, Akbiyik Caddesi, the Hanedan is the natural budget choice. Despite being owned and run by four friends, it has a friendly family feel about it, with the interior decor mixing the modern with mock-Ottoman flourishes. Rooms have air-conditioning and central heating as standard, with polished wood floors and chiffon-draped four-poster beds adding a touch of interest. The views from the roof terrace to the nearby Aya Sofya and out across the Sea of Marmara and Princes' Islands are stunning.
• Akbiyik Caddesi, Adliye Sokak 3, Cankurtaran, +90 212 516 4869, handedanhotel.com, doubles from €40 B&B
World House Hostel
Set on dramatically steep, cobbled Galipdede Caddesi, just down from the Galata Mevlevihanesi whirling dervish monastery, this was one of the first hostels to open on this side of the Golden Horn. Light, bright and clean, the functional World House concentrates on providing the impecunious with the cheapest dorm beds in town. As it's bang next door to a quaint old mosque (beware the call to prayer), drinking can only be done in the downstairs lounge area, which opens out onto a street unofficially known as "Musician's Alley" because of all the outlets knocking out traditional and contemporary musical instruments.
• Galipdede Caddesi 85, Beyoğlu, +90 212 293 5520, worldhouseistanbul.com, dorms from €12, doubles from €50 B&B
Büyük Londra Hotel
The recent modernisation of the Pera Palace leaves the Büyük Londra as the last bastion of faded, fin-de-siècle grandeur in this fast-changing city. It was built in 1892 to accommodate travellers arriving on the Orient Express, and its most famous guest was Ernest Hemingway, here to cover the Turkish war of independence. Sitting in the wonderfully well-preserved lobby bar – all finely-carved dark wood, ornate etched-glass and overstuffed chairs – it's not hard to imagine yourself in a bygone era. The cheaper rooms are very basic, but that's not the point. The Büyük Londra is a paean to the golden age of travel.
• Mesrutiyet Caddesi, Beyoğlu, 53, +90 212 245 0670, londrahotel.net, doubles from €50 B&B
Sumo Cat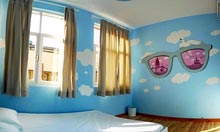 Tucked-away down a quiet, cobbled street within a stone's throw of the city's landmark Galata Tower, this boutique hostel has been converted from a 19th-century townhouse by the quartet of hip young Turks who run it. They'll happily point you in the direction of the best bars, clubs, galleries and restaurants in vibrant Galata and adjoining Beyoğlu. There are three dorm rooms and a couple of doubles – slightly on the small side but boldly decorated with murals and with air-conditioning. A simple buffet breakfast is available in the basement, or take it up to the cosy courtyard out front. Free Wi-Fi.
• Ali Hoca Arkası 9, Kaldiran Caddesi, Galata, +90 212 292 7866, sumocathostel.com, dorms from €14, doubles €60
Agora Guest House & Hostel
One of the new breed of hostels for a more demanding generation, the Agora's focus is its welcoming lounge area, which opens out onto a broad terrace with great views over the glittering blue Sea of Marmara. Here guests breakfast, watch TV, make use of the hostel's laptops/free Wi-Fi or enjoy a sundowner. It's a shade more expensive than most hostels in the area, but worth it for the immaculately clean dorm rooms, one of which is women-only. There are also 10 en suite doubles with flat-screen TV's, DVD players and air-conditioning. Set on a quiet side street in the heart of the old city, the Agora is just a few minutes' walk from the major sights.
• Amiral Tafdil Sokak 12, Cankurtaran, +90 212 458 5547, agoraguesthouse.com, dorms from €15, doubles €70 B&B
Cheers Hostel
Most old city hostels are concentrated on and around Abkiyik Caddesi, the most tourist-oriented street in Istanbul. Bucking the trend, the owner of Cheers, who for many years ran the most popular backpackers' bar on the aforementioned Akbiyik Caddesi, deliberately (and wisely) located his new venture on a little-used street downhill from the majestic Aya Sofya, which can be admired from the lively roof terrace bar. Fashioned from a characterful 1920s building, this clean, friendly and welcoming hostel offers a choice of four, six, eight and 10-bed dorms plus doubles and family-friendly triples and quadruples. Free Wi-Fi.
• Zeynep Sultan Camii Sokak 21, Sultanahmet, +90 212 526 0200, cheershostel.com, dorms from €15, doubles €60 B&B
Rapunzel Guesthouse
The former Genoese quarter of Galata has become the city's hippest neighbourhood, and Rapunzel is ideally situated for guests to make the most of the nightlife, galleries and boutiques. What makes this hostel stand out from the crowd, however, is the attention to detail – for example, the bunk beds in the six-person dorms all have their own curtains and reading lights, and the exposed brickwork dates back to the building's original construction in 1872. There's a women-only dorm and en suite doubles for those seeking more privacy. A trio of friendly young Turks run the place with verve, and provide guests with a hearty breakfast to boot.
• Bereketzade Camii Sokak 3, Galata, +90 212 292 5034, rapunzelistanbul.com, dorms €18, doubles €55
Devman Hotel
A functional modern block at the lower end of one of Beyoğlu's most boisterous alleys, the noise from restaurants and bars on the street below, and neighbouring clubs, goes on into the small hours – probably best avoided at weekends unless you are also planning to stay out late. But it's as cheap as you'll find in lively Beyoğlu, with old-fashioned but adequately furnished en suite rooms, and it offers more privacy than most of the hostels. Breakfast, served in a brightly-lit basement room, is passable, and the staff are friendly.
• Asmalimescit Sokak 22, Beyoğlu, +90 212 245 6212 , devmanhotel.com, doubles from €50
Kariye Hotel
One of Istanbul's first boutique hotels, the Kariye is showing a few signs of wear, hence the extremely reasonable rates. The location is fabulous, in a quiet suburb right next to the Kariye Museum and its stunning Byzantine mosaics. The rooms are decorated in keeping with the 19th-century mansion origins of the building, with kilim-decked parquet floors, high ceilings, lace curtains and latticework screens at the windows. It's more than a mile from historic Sultanahmet, but who cares with such an atmospheric hill-top location, and the adjoining Asitane restaurant rustling up tantalising Ottoman Turkish specialities.
• Kariye Camii Sokak 6, Edirnekapı, +90 212 534 8414, kariyeotel.com, doubles from €65 B&B
Hotel Niles
Situated down a very untouristy street just a short hop from the main sights of the old city, the Niles is an immaculately-appointed, very professionally-run hotel. The traditional rooms have plain walls and crisp white bed linen, and safe-boxes and flat-screen TVs are standard. The roof terrace, with panoramic views across the Sea of Marmara, is the perfect place to enjoy the lavish Turkish-style buffet breakfast (olives, cheeses, homemade jams, cold meats, dried and fresh fruits, creamy yoghurt etc). Downstairs, a leafy courtyard garden is a wonderful refuge from the summer heat. Free Wi-Fi.
• Dibekli Cami Sokak 19, Beyazit, +90 212 517 3239, hotelniles.com, doubles from €50 B&B
Terry Richardson is the author of the Rough Guide to Istanbul and the Rough Guide to Turkey
Related post:
10 of the best boutique hotels in Istanbul