The best hotels and budget hotels in Ho Chi Minh, VietNam
Top 10 hotels in Ho Chi Minh City
Source:
http://www.theguardian.com/travel/2014/mar/19/top-10-hotels-ho-chi-minh-city-vietnam
Get the most out of Vietnam's biggest city by choosing a great base: from Graham Greene's old haunt to a boutique bolthole with views over the Saigon river
Ma Maison
A pocket of France in a remote corner of Ho Chi Minh City, Ma Maison is a welcoming place to stay, run by a French-speaking Vietnamese family. The tall, grey-hued guesthouse towers over an alley scattered with banh mi stalls, tailors, food kiosks, and locals crowded around TVs. Behind the guesthouse door, there's a sense of being transported away from the city, with Provençal furniture, farmhouse tables, vases of blooming flowers, croissants for breakfast, and a soothing, quiet calm. Rooms in muted pastel tones are cosy with super-comfortable beds; the bathrooms, with rain showers, are perfumed by cinnamon sticks, lemongrass and mother of pearl shell. Ma Maison is quite a hike from the centre of town but don't let that be a deterrent. Just a few minutes' walk from Ma Maison, and recommended by its staff, is a local bó ba lot restaurant, where the sight of a foreigner is still a rare thing. Feast on a fill of beef wrapped in betel leaf, a stack of rice paper, a huge pile of herbs, noodles and peanuts, and all for just £1. Ma Maison's filling breakfast pho is also worth the wait.
• 656/52 Cach Mang Thang Tam Street, +84 8 3846 0263, mamaison.vn, doubles from £52 B&B
Thao Dien Village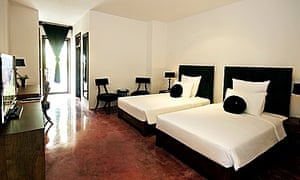 An alluring tropical retreat, Thao Dien Village is enveloped by frangipani trees, and is a 15-minute drive from downtown Saigon. Saigon is a busy, noisy and congested city but this inviting hotel offers peace, a swimming pool, spa and a Vietnamese restaurant all facing the Saigon river in District 2. Superior rooms are all monochrome sleek with chalk-white walls, grey velvet headboards, crisp white sheets and black lamps dangling with droplets of shells by French designer Valerie Gregori McKenzie, founder of boutique store Song. Begin the day with a breakfast of eggs and strong Vietnamese coffee, seated on a terrace overlooking the river, and end it at the lemongrass-perfumed spa with a relaxing herbal, hot stone, mud or chocolate treatment.
• 189-197, 197/1 Nguyen Van Huong Street, +84 8 3744 6457, thaodienvillage.com, doubles from £103 B&B
Cinnamon Hotel
The charming Cinnamon offers all the style and comfort of a more expensive Saigon hotel at half the price. It is a short walk from central Bến Thành Market in District 1, its manicured Asian interiors feature dark wooden floors and furniture, desks, coatstands, colourfully tiled bathrooms with tubs and showers, and lamps encased in fishing baskets. You may want to avoid street-facing rooms for the noise, although heavy wooden doors and window shutters muffle sounds. Breakfasts of pho, or banana pancakes laced with Mekong Delta honey, taken in the small breakfast room in the lobby, are delicious. As well as breakfast, one cocktail or mocktail, and one foot massage is included in the stay.
• 74 Le Thi Rieng Street, +84 8 3926 0130, cinnamonhotel.net, doubles from £40 B&B
The Alcove
There's nothing else quite like it in Ho Chi Minh City. French colonial-style tiling in floral swirls of black, and taupe in the boutique-chic lobby supports impressive floor-to-ceiling library bookcases stacked with an eclectic mix of books. The Alcove is closer to the airport than the city, and you'll have to factor in travelling times to downtown on busy weekend nights, but it's quiet and the beds are supremely comfortable, so you may want to indulge in a lie-in, thus missing the 9.30am breakfast cut off. But when you do, wander upstairs to the industrial-chic Roadhouse bar and restaurant, a breakfast of eggs, toast, jams, fruits, fresh coffee and the tastiest yoghurt in Saigon awaits. Fresh coffee and tea served to your door is a thoughtful touch after a full day's sightseeing.
• 133A Nguyen Dinh Chinh Street, +84 8 6256 9966, alcovehotel.com.vn, doubles from £54 B&B
Little Saigon Boutique Hotel
Hitched to the bottom end of a long alley in a very central downtown location, this tiny hotel offers creature comforts and a central city experience. Outside its front door locals sell banh mi (Vietnamese baguettes), eat, chat and drink coffee in the popular cul-de-sac. A stone's throw from city hall and other central sights, the lantern-decorated hotel, run by welcoming Vietnamese staff, offers super-soft pillows, silk bathrobes, pouffes and tables for taking coffee, and balconies overlooking the higgledy-piggledy French colonial and glassy, modern city skyline.
• 36 Bis/2 Le Loi Boulevard, +84 8 3521 8464, littlesaigon.com.vn, doubles from £18 B&B
Hotel Sanouva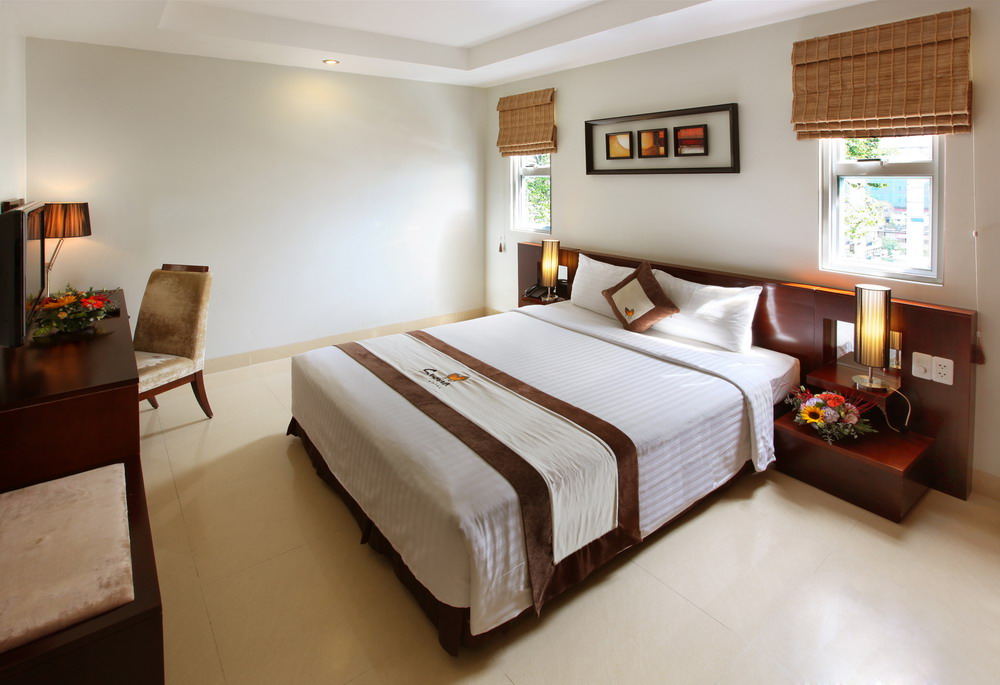 This slick Ho Chi Minh city hotel, just behind popular Bến Thành Market, oozes confidence in its smart, grownup rooms. Think brushed-cotton chairs, plump pillows, firm mattresses and long desks, all in a palette of moleskin and white. Ly Tu Truong Street is packed with hotels all looking much of a muchness. This is the standout on this popular District 1 stretch. It's also close to one of the city's best cafes, the boho I.D. Café, with its bare brickwork, 1960's furniture and tasty milkshakes. If you stay more than three nights at the Sanouva, a complimentary transfer to the airport is included.
• 177 Ly Tu Trong Street, +84 8 3827 5275, sanouvahotel.com, doubles from £43 B&B
Saigon River Boutique Hotel
Ho Chi Minh's hotel scene lacks innovation but this new Vietnamese-Australian venture is brilliantly located for sights, eating, drinking and shopping, and has been attractively re-fashioned from a 1980s narrow building with a bright-white sculptural facade depicting a multi-branched tree. Rooms are mostly creatively decorated – red, stone and lemon-yellow pouffes, sleek silver-and-white wallpaper, chic chairs, and contemporary photography framed on the walls. Bathrooms feature wonderful hot tub showers, and standard rooms, which do not have windows – not an uncommon feature in the city's hotels – have been enhanced by mirrored walls. Although a couple of blocks from Saigon river, guests can watch the boats from the top-floor terrace.
• 58 Mac Thi Buoi Street, +84 8 3822 8558, saigonriverhotel.com, doubles from £21 B&B
Ruby River Hotel
The Ruby River, with its upbeat contemporary feel, sits in an ideal location for shopping and the arts. The District 1 hotel is close to the famous Le Cong Kieu aka "antique street", and the Fine Arts Museum, and a short xe ôm (motorcycle taxi) ride to Bến Thành Market and the backpacker zone of Pham Ngu Lao. As well as their prime location, superior rooms are quiet and modestly decorated in chocolate browns and white. Silver dandelions, or roses in Charles Rennie Macintosh-style, climb the walls; sharp bathrooms are compact with powerful rain showers. Ruby deluxe rooms are a better bet as they feature windows overlooking the street, and the bathrooms come with hot tubs.
• 59-61 Nguyen Thai Binh Street, +84 8 3914 3636, rubyriverhotel.com.vn, doubles from £35 B&B
Hotel Catina
Graham Greene knew this was a good spot; he took rooms in the 1950s in the smart, snappy white building that is now the modern Hotel Catina. It's on Dong Khoi (the old Rue Catinat under French rule), the city's main downtown shopping street. Once you pass the lobby – a glitzy, glassy jewellery shop – the upstairs rooms are quiet, feature discreetly positioned TVs, and have alcoves with desks and coffee-making facilities. Graham Greene was all for people-watching vantage points so he would have approved of the breakfast room with its tall windows overlooking Dong Khoi. The Catina is ideal for the shopaholic, the barfly, and the 21st-century flaneur.
• 109 Dong Khoi, +84 8 3829 6296, hotelcatina.com.vn, doubles from £68 B&B
The Town House
Tucked at the end of a quiet Saigon hem (alley), and with helpful young Vietnamese staff, this new addition to the Ho Chi Minh hotel scene is great value. The Town House combines its small-hotel-meets-hip-hostel ambience with bold, attractive interiors. Architects Huy Than and Le Ha An have fashioned the cul-de-sac building into an inviting place to stay with twin, double, family and dormitory rooms, using French blue interiors, pretty stencilling, bamboo towel ladders and old French colonial tiles. The lobby leads to the breakfast area, decorated with tropical greenery, and illuminated by orange and blue Chinese lanterns, and a mini kitchen where guests can make their own packed lunches. A magazine rack, computers and Wi-Fi, plus a shower room for guests who have already checked out, complete the winning formula.
• 50E Bùi Thị Xuân, +84 8 3925 0210, townhousesaigon.com (website under construction), doubles from £20, dorms from £5.50 B&B
The Best Hotels In Ho Chi Minh City
Source:
http://theculturetrip.com/asia/vietnam/articles/colonial-charm-in-a-modern-metropolis-the-ten-best-hotels-in-ho-chi-minh-city/
Continental Hotel
The Continental, credited as the first hotel in Vietnam, is among the city's most famous 19th century architectural treasures. Like the Opera House (the former National Assembly), the City Post Office and the Notre Dame Cathedral, it sends shivers down your spine with its evocative 1880 colonial facade. It's in room 214 that Graham Greene wrote part of The Quiet American, and the Continental features in both the book and the film (where its ambience was recreated in studio). It also played a vital part in the Oscar-winning romance of Indochine. Behind the imposing facade, though, the interior today struggles to retain its star quality and charm and only parts of the decor are open to literary and cinematic nostalgia. As for the scandalous Continental Shelf bar, where spies, politicians and journalists alike used to casually mingle over a drink, it is now history — but take a seat in one of the front pavement tables of the Dolce Vita Cafe, across the street from the Opera House, and nothing stops you from recreating some of Greene's intrigue.
132 - 134 Dong Khoi St., District 1, (848) 38299 201.
Caravelle Hotel
Inspired by the 15th century Iberian caravelas, The Caravelle has starred in endless journeys of our collective imagination since it first opened on Christmas Eve 1959. A central figure itself in wartime Vietnam, the hotel provided the setting for countless professional, or plainly convivial meetings of foreign correspondents during the '60s and '70s (it housed the offices of NBC, ABC and the Australian and New Zealand Embassies, among others), who kept safe views of the action from the rooftop bar. Having added a luxurious 24-storey tower to the renovated, legendary 10-storey building in the '90s, the hotel these days mainly narrates its story though framed pictures on the wall. The completely transformed Saigon Saigon bar now observes the changing cityscape with effortless elegance. But the hotel's fascinating list of guests, including Sir Michael Kane and Bill Clinton, and the sense of intimacy and comfort against the busy HCMC backdrop remain a constant throughout.
19-23 Lam Son Square, District 1, (848) 3823 4999.
Grand Hotel Saigon
Despite its name, the Grand Hotel might be a less conspicuous star of the French era Saigon, but this 1930s' colonial beauty on the historic Dong Khoi Street has an exterior every bit as impressive as the best of them. Divided as it is, historically and aesthetically, between the new and old wing, it is better to opt for one of the spacious original rooms with parquet floors and French windows in order to relive the memories of this colonial-era legend. It will cost you slightly more, but for the biggest part of the year the rooms are still reasonably priced. Among the rather flat modern additions, timeless details like the lobby elevator open a window to the past, and an atmospheric swimming-pool and a central courtyard also do their bit to complete the picture.
8 Dong Khoi Street, District 1, +(848) 39155555.
Hotel Majestic Saigon
This 1925 French heirloom on No. 1 Dong Khoi Street majestically opens to breezy and busy riverside views, somewhat irrationally blending colonial chic with Ho Chi Minh City's contemporary floating frenzy. Stripped of its heavier period features, the Majestic still holds plenty of French poise in its rooms, like the signature parquet floors. Just make sure your room comes with a view, as in HCMC windowless accommodation is pretty common. The terrace of Breeze Sky Bar and M. Bar offer magnificent views of the river and city skyline, complemented by the Cyclo restaurant's fine dining and local entertainment. It's a general atmosphere of relaxed grandeur — drastically improved by the complete absence of wartime anti-grenade drills.
1 Dong Khoi Street, District 1, + (848) 38295.
Rex Hotel Vietnam
For over 80 years, this old French garage-cum-luxury hotel has been a silent chronicler of the city's trials and tribulations. The Rex was the legendary aesthetic backdrop to the so-called 'five o'clock follies', the press briefings that the American Information Service used to conduct for foreign correspondents during wartime. In the '60s, the Abraham Lincoln Library was also established on the ground floor. After suffering a bland phase as the Rex Trading Center during the '70s (hosting three cinemas and a disco-hall), the hotel has now undergone a series of refurbishments that have post-modernised its interior. Characteristically for modern-day HCMC, in its rooms an exotic wooden ottoman meets a flat screen TV. The Rex's highlight is, four decades later, none other than its iconic rooftop bar, where the old 'follies' are replaced by new ones, stunningly tempered by one of the city's most romantic sunsets.
141 Nguyen Hue Blvd., + (848) 38292185.
The Spring Hotel
A few minutes walk from the famous city market and the major historic attractions of District 1, The Spring Hotel offers value-for-money accommodation with a splash of concentrated colonial glamour. The room decor is rather outdated, but there's a small atmospheric roof top garden with great views, a good selection for breakfast, and an incredibly accommodating, friendly staff to make up for any losses (including the limited vegetarian choice in the menu). Nothing compares to the striking ambiance of the lobby, though, with a collection of flowers and indoor vegetation, wicker furniture, marble pillars, chandeliers and a grandiose staircase, which you will descend feeling like a king.
44 - 46 Le Thanh Ton St, District 1, + (848) 38297362.
Beautiful Saigon III
Just a few minutes walk from the famous Ben Thanh Market, the latest Beautiful Saigon (only a few meters away from Beautiful Saigon II) is located in a quiet(er) alley in the perpetually buzzing backpacker's district. It offers 18 rooms with reasonable prices, modern and understated, with spacious bathrooms — just make sure you pick one with a window and a bit higher up to enjoy the street feast and city views. Here, you're in the middle of the colourful and vibrant city life (hawkers included), with plenty of choice of cheap eateries and traveller's cafes, along with travel agents to help you organize your next thrilling Vietnamese tour. Otherwise, just ask the friendly staff, who always have a good recommendation up their sleeve.
40/27 Bui Vien St., District 1, + (848) 39204874.
Villa Song Saigon
Drop Ho Chi Minh City's hectic urban lifestyle for Villa Sông , a 1930s colonial getaway on District 2, right by the Saigon river. Though a bit further out from the city center, the hotel offers a free 10-min boat ride to the town center, and it has plenty of serenity, beauty and comfort to make up for the lack of shopping and nightlife. The hotel has recently undergone a major revamp and has reopened with its impeccable and serene colonial charm intact but with additional luxury touches, including a new spa and gym. It now features spacious, breezy rooms overlooking the river or the hotel pool, with sophisticated design elements, like the freestanding bathtub in The Art Suite. The swimming-pool and the riverside restaurant equally blend luxury and relaxation, ideal for summer splashes and romantic dinners under the palm trees. For booking and further details contact Villa Song.
197/2 Nguyen Van Huong Street, + (848) 3744 6090 – 91 – 92 – 93.
You might also like:
Top Rated Hotels in Ho Chi Minh City, VietNam on TripAdvisor
The best boutique and budget Ho Chi Minh City Hotels on TripAdvisor