The best cheap hotels and restaurants in New York, United States
New York on a budget: the best cheap hotels and restaurants
Source:
Telegraph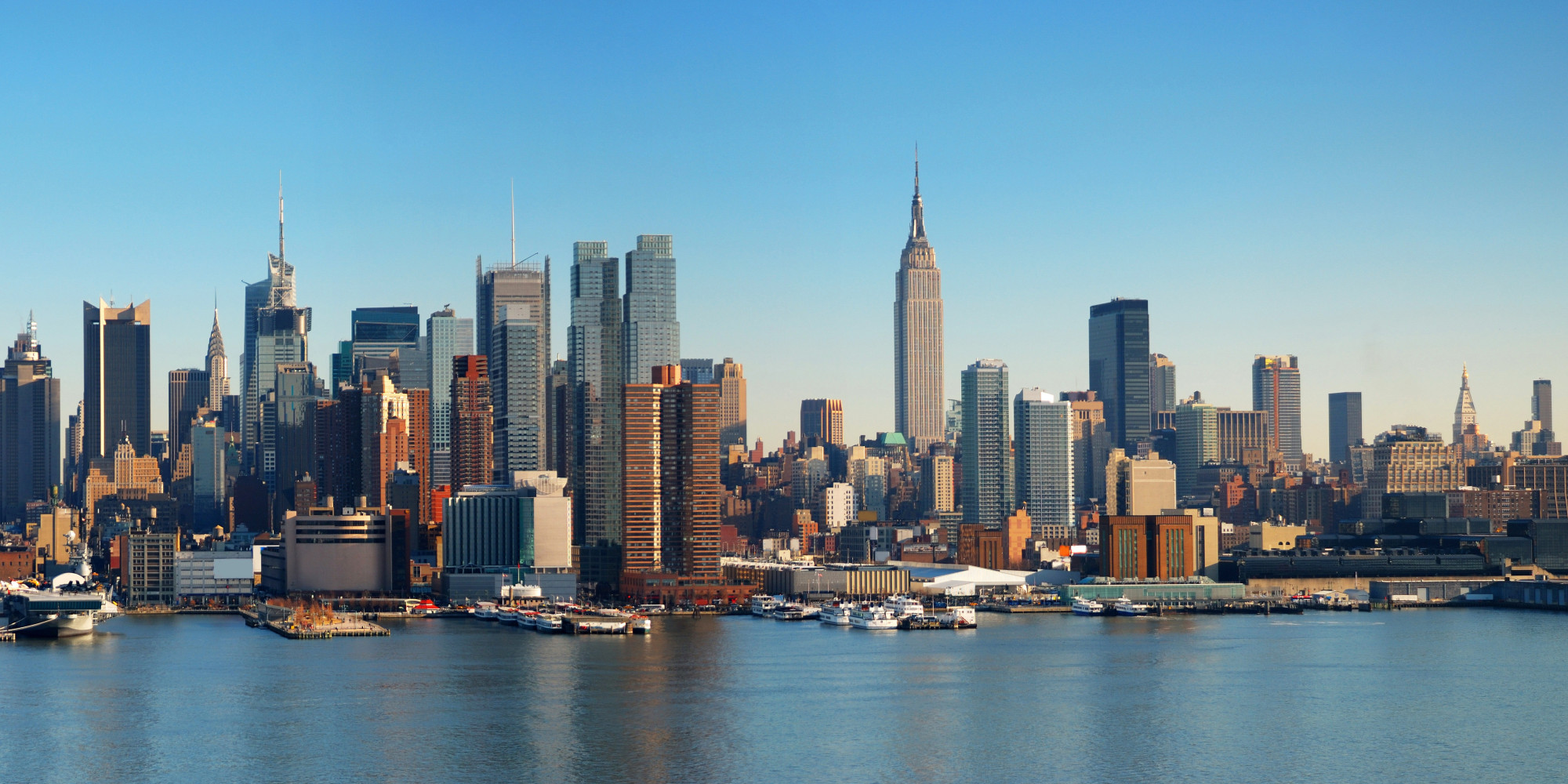 When hunting for budget hotels or bargain restaurants in New York, the trick is to look just outside the more fashionable precincts. The central Koreatown/Fashion District/Flatiron nexus, below Times Square, and above 20th Street, may not be much to look at, but it has scores of bargain hotels, some of which (the Herald Square and the Stanford) have been around forever. True, you're not going to meet a supermodel in the lobby, but the rooms are comfortable and clean, and close to the fancier parts of town.
Food-wise, areas popular with students and the hip young crowd – the Lower East Side, East Village and Chinatown – have great dining at low prices to suit cash-strapped locals. Small-plates restaurants, such as 'Inoteca and Torrisi Italian Specialities, are all the rage, while innovative Californian chains, such as Mission Chinese Food and Dos Toros Taqueria, offer modern twists on Asian and Mexican cuisine that are a step above standard ethnic fare – but at similar low prices. Dive in.
Hotel prices are for a double room in low season, without breakfast.
Herald Square Hotel 7/10
19 W 31st St, Nr. Fifth Ave
(001 212 279 4017; heraldsquarehotel.com)
This 19th-century find in Midtown has been a beloved family-run hotel since 1965 and is a Gilded Age New York classic. From the gilt cherubs carved above the arched entryway, to the framed photos of Life covers in the lobby (this was the magazine's former HQ), you will feel like you're part of history. A block or two from Macy's and Madison Square Garden, the area is frenetic, but you are close to major subways.
Price from £75
Hotel Deauville 7/10
103 E 29th St
(683 0990; hoteldeauville.com)
A charming, comfortable, 54-room family-owned hotel in 1900s Brownstone just off swanky Park Avenue. The original hand-operated lift will take you back in time, as will the faded Seventies decor, but veteran staff treat you like family and may tell of famous past guests such as Sid Vicious. Despite being slightly chintzy, with floral-patterned bedspreads and curtains, bedrooms are clean and comfortable, and come with air-con and cable television.
Price from £82
Hotel Stanford 7/10
43 W 32nd St at Fifth Ave and Broadway
(563 1500; hotelstanford.com)
It may have a nondescript façade, but this 12-storey, 122-room Koreatown hotel has amazingly cheap rooms, attentive staff, and a fun, friendly atmosphere. It lies in the shadow of the Empire State Building, a short walk from Macy's and the theatres of Broadway, but use the setting to explore the Korean broth houses, noodle bars and spas – a really unsung part of the city.
Don't expect frills, but all rooms have en-suite bathrooms, beds with white down comforters and duvets, televisions and ample wardrobe space.
Price from £93
Nyma 6/10
6 W 32nd St, Midtown
(643 7100; thenewyorkmanhattanhotel.com)
The New York Manhattan Hotel is a 171-room business hotel with a swanky finish in Koreatown, on the southern edge of Midtown, steps from Macy's, Madison Square Garden and the Empire State Building. Rooms are clean and unfussy, with flat-screen cable television and "on demand" films. Opt for one on the higher floors – 15-17 – for great views of the Midtown cityscape.
Price from £85
POD 51 7/10
230 E 51st St
(355-0300; thepodhotel.com)
Opened in 2007, this retro-contemporary hotel has 152 pod-sized rooms and bunks, and while space is minimal, a great roof deck and fun staff make up for it. It is set in bustling East Midtown, less than a mile from the action in Times Square. Think of The Jetsons teleported to the iPad age: from the futuristic leaf-green reception desk, to rooms in hospital-white decked out with MP3 docking stations and LCD televisions, you will feel as if you're on a space ship or in an Apple store.
Price from £90
Related posts:
The Bowery House 7/10
220 Bowery, Lower East Side
(837 2373; theboweryhouse.com)
The Bowery House is a stylishly renovated former Second World War veterans' flophouse that enjoys an excellent setting on the hip edge of Chinatown and the Lower East Side, a few blocks from the boutiques, galleries, restaurants and supermodels of Nolita and Soho.
It feels like a bedsit rendered as a boutique hotel: the cabins, bunks and rowdy bar make for a youth hostel vibe, but the floors and stairs are all done in Italian marble, communal bathrooms have heated floors and Red Flower bath products, and you get a Ralph Lauren towel in your room.
Price from £57
The Jane 7/10
113 Jane St, nr. West St, West Village
(924 6700; thejanenyc.com)
A former sailors' hotel built in 1908 and revamped, the Jane has tiny rooms but a chic West Village location, and the Hudson River is just a swizzle stick away. Survivors of the Titanic stayed here while awaiting the inquest into the ship's sinking in 1912. The hotel's designers kept the worn historic look but added bohemian chic decor for the budget travellers who don't want to spend much time in their room, and hip guests "with more dash than cash".
Price from £97
The Gershwin 7/10
7 E 27th St at Fifth Ave
(545 8000; gershwinhotel.com)
This arty Flatiron District hotel, its bright red façade covered with suspended art installations, is a combination of gallery, museum and hipster hostel. The sparsely furnished, Ikea-style rooms range from 450sq ft "Suites", to 225sq ft "Essentials", all with en-suite bathrooms and flat-screen televisions. In keeping with many hip budget hotels in and around New York, the Gershwin forgoes a restaurant for a coffee shop.
Price from £85
The Sohotel 8/10
341 Broome St, nr. Bowery
(226 1482; thesohotel.com)
"The oldest hotel in New York", say its current owners, this former boarding house has had a major renovation of its 100 rooms, and is now a fashionable budget option, further helping transform the Bowery district. From reclaimed chandeliers, zebra-print furniture and bold purple and yellow accents in the lobby to the bare-brick walls and rustic wood floors of the bar, boho-chic never looked so good. The hotel is in easy walking of SoHo, Little Italy, Nolita, the East Village and Bowery hot spots.
Price from £80
World Center 8/10
144 Washington St
(577 2933; worldcenterhotel.com)
The first hotel to open at Ground Zero since the 9/11 attacks, this 20-storey, 421-room glass-and-steel tower has sleek rooms, spectacular views and an almost reverential setting, opposite the Freedom Tower and overlooking the 9/11 memorial reflecting pools. While it has the slightly sterile look of an airport lounge, it's a first-class airport lounge. Custom-designed rooms have floor-to-ceiling windows and a clean-lined, almost Nordic look: light wood desks, white bed throws, iPod docking stations and flat-screen televisions.
Price from £90
Related posts:
Everything that need to know when travelling to New York city, USA
Best budget hotels in New York City, United States
Where to eat for £20 or less
(Prices are per person for two courses in the evening and excluding wine unless stated otherwise.)
Abboccato
136 W 55th St
(265 4000; abboccato.com)
The aroma of truffles and freshly baked breads draws you into this elegant Italian in the unlikely setting of Midtown. The pastas are handmade and regional dishes include Umbrian-style quail stuffed with mortadella and Sicilian-style grilled octopus.
Prices from £19
Bar89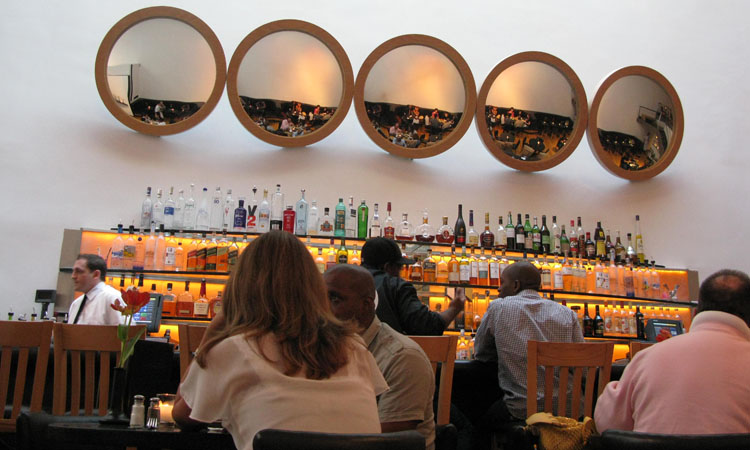 89 Mercer St, nr. Spring St, Soho
(274 0989; bar89.com)
The cocktails are pricier than the urban comfort food at this ultra-stylish, loft-like restaurant-bar in SoHo. The bi-level glass and aluminium space has a simple, unfussy menu, in contrast to its complex drinks list. Dishes run from blue cheese buffalo wing starters and triple-decker club sandwiches, to innovative peppercorn-crusted burgers.
Prices from £16
Dos Toros Taqueria
14 First Ave at 1st St, East Village
(677 7300; dostoros.com)
This is Mexican food made from super-fresh ingredients, with friendly service and in funky surroundings. The menu is a simple list of burritos, tacos and quesadillas. I defy anyone who has tasted the guacamole-filled pollo asado (grilled chicken) quesadilla not to come back for more.
Prices from £8
Fragole
394 Court St, Carroll Gardens, Brooklyn
(718 522 7133; fragoleny.com)
This bare-brick Italian in trendy Carroll Gardens, Brooklyn, is not as "sceney" as nearby Prime Meats or Frankie's, but its home-made pastas, fresh sauces and Argentine wine list draw in a young, fashionable crowd of knowledgeable foodies. Classics feature on the main menu, but opt for the daily specials.
Prices from £14
Inoteca
98 Rivington St, at Ludlow St, Lower East Side
(614 0473; inotecanyc.com)
A perpetually packed Italian small-plates place, with wine-bottle-stacked walls, chunky wood tables and benches, and a corner cocktail bar. Ryan Gosling was there when we popped in – come, too, for the bruschetta, assorted charcuterie (culatello, bresaola, soprassata and so on) and tasty truffled-egg toast, before upgrading to crispy panini and meatier dishes such as chicken cacciatore.
Prices from £16
JG Melon
1291 Third Ave at 74th St
(744 0585)
Popular with the preppy set and famous for its burgers and Bloody Marys. Opened in 1972, its tin-pressed ceiling, wood counter and veteran staff are part of the charm.
Prices from £10
Lucien
14 First Ave at 1st St, East Village
(260 6481; luciennyc.com)
You may have to be selective when ordering at this popular brasserie in the East Village to come out under £20, but it's worth it for the food and atmosphere. We recommend house pâté, followed by the grilled South Carolina quail.
Prices from £17
Marlow & Sons
81 Broadway, nr. Berry St, Brooklyn
(718 384 1441; marlowandsons.com)
Down the road from the world-famous steakhouse Peter Luger in hip Williamsburg, it's a jewel-box-sized, wood-panelled space that's coffee shop by day, restaurant and bar by night.
Prices from £19
Mission Chinese Food
154 Orchard St, nr. Stanton St, Lower East Side
(529 8800; missionchinesefood.com)
This is the sister restaurant to the original Mission in San Francisco, created by the Korean-born culinary superstar Danny Bowien, who fuses Chinese, Korean and Western traditions with his unique flair.
Prices from £9
Walkers
16 N Moore St, at Varick St, Tribeca
(941 0142)
One of the few old-school hang-outs left in gentrified Tribeca, although we don't mean it's a dive. A wood-floor tavern with pressed tin roof and a long bar gives way to two dining rooms at the back, serving upscale American bar food. Think tuna Niçoise salad, shell steak sandwiches, or herb-roasted organic chicken with potatoes.
Prices from £15
Related posts: