The best cheap hotels and restaurants in Barcelona, Spain
The best cheap hotels and restaurants in Barcelona, Spain
By Sally Davies
Source:
http://www.telegraph.co.uk/travel/destinations/europe/spain/barcelona/9509431/Barcelona-on-a-budget-the-best-cheap-hotels-and-restaurants.html
Opening a new series on budget city breaks, our Barcelona expert recommends the best hotels for under £100 and good dining options for under £20.
Thanks to the fall of the euro, a holiday in most of Europe is considerably cheaper than it was a couple of years ago. Barcelona is no exception and there are a handful of ways to make your money go further still. The cheapest way to travel on public transport, for example, is to use a T-10 (available in any metro station for €9.25/£7.50), which entitles the holder to 10 journeys by bus, metro or local train. City-run museums are free on Sunday afternoons and if you want to see many of them you might consider the Articket, which will get you into seven for €30 (£24).
Barcelona's hotels are priced less on location and more on style, perhaps because most hotels not designed for business travels are within a 20-minute walk of the Plaça de Catalunya. Those that are aimed at business people, however, can be surprisingly cheap at weekends and during holiday periods. Restaurants tend not to be priced according to their neighbourhood, either, but according to cuisine. Do not assume however that Indian, say, will be cheaper than Japanese. Supply and demand works differently here.
One thing you can rely on is a good, cheap lunch. Most places serve a menú del dia, which, for around €11 (£9), will get you three simple courses and a glass of house wine.
Hotels for £100 or less
Barceló Raval
7/10
Rambla del Raval 17-21, Raval
(0034 93 320 1490; barcelo.com)
The Barceló is a bold architectural statement in Barcelona's edgy, multicultural Raval district, with funky, retro-flavoured rooms and spectacular views. A great cylinder wrapped in wire mesh and lit with neon, it makes a futuristic contrast to its surroundings. For a sense of how dramatic a contrast, take the lift up to the rooftop terrace, with its 360-degree views and plunge pool.
Price from £83
Catalonia Portal de l'Àngel
7/10
Avda Portal de l'Àngel 17, Barri Gòtic
(318 4141; hoteles-catalonia.com)
The street that gives the hotel its name is wide, pedestrianised and lined with shops. Busy during the day but almost silent at night, it's hard to beat. The hotel has been around forever but it is taking its time living up to its potential, recent renovations notwithstanding. It has a wonderful central atrium, a sweeping marble staircase and at ground level, a large garden area with a good-sized pool and restaurant.
Price from £87
chic & basic Born hotel
7/10
Carrer de la Princesa 50, Born
(295 4652; chicandbasic.com)
As the name suggests, this is designer class at a reasonable price. The location can hardly be bettered – in the centre of the charming Born neighbourhood, almost in front of the gates to the idyllic Parc de la Ciutadella. The usual Barcelona complaint applies that the rooms are very small, but they are designed to be open and airy, with glass shower cubicles alongside beds.Price from £68
Hotel Casanova
7/10
Gran Via de les Corts Catalanes 559, Eixample
(396 4800; hotelh10casanova.com)
The recent addition of the rooftop "Sky Bar" and plunge pool has pulled the Casanova out of the "smart-but-functional business hotel" bracket and made it a cooler, more inviting place to stay. Its location, on the busy Gran Via, means it is away from the tourist hustle, but the terrace activity and, at weekends, DJs and cocktails in the lobby bar, make for a party atmosphere. Downstairs there is a spa and jacuzzi, and massages are offered on the patio of the hotel.
Price from £68
Hotel Ciutat
8/10
Carrer de la Princesa, Born
(269 7475; ciutathotels.com)
Carrer de la Princesa runs along the top of the picturesque Born neighbourhood, and leads to the entrance of the verdant Ciutadella park. A cheerfully efficient, no-nonsense hotel, which is mostly no-frills, but has fridges filled with complimentary mineral water on every floor, and, most importantly, a rooftop terrace with a Gaudíesque plunge pool worthy of a hotel twice the price.
Price from £64
Hotel España
8/10
Carrer de Sant Pau 9-11, Raval
(550 0000)
A sensitive revamp of a classic Modernista building, just yards from La Rambla. Many of the original features of this 19th-century travellers' lodge have been sensitively restored, including a wonderful alabaster fireplace in the bar. The price you pay for such a conversion is that the rooms are fairly tiny unless you splash out for an executive.
Price from £80
Hotel Pulitzer
9/10
Carrer de Bergara, Eixample
(481 6767; hotelpulitzer.es)
There are quieter and more atmospheric neighbourhoods, it's true, but the Pulitzer's location just off the Plaça de Catalunya, on the edge of the Old City, means it could not be more central. Exuding a vibrant cool, this is where the party people stay, which is not to say that you could not have a perfectly peaceful time. The plush, airy lobby sets the tone with its white leather sofas and zebra print rugs, and the funky design ethic continues all the way to the rooftop cocktail bar.
Price from £67
Market Hotel
8/10
Passatge de Sant Antoni Abad, Sant Anton
(325 1205; andilanahotels.com)
Sant Antoni is a quiet, villagey part of the Eixample that has at its heart a 19th-century market building. It's just on the edge of the Raval. An exemplary lesson in how to produce chic on a budget, the Market Hotel manages to be sophisticated, colourful and original at prices normally experienced by backpackers. Surprising small touches include free mineral water and apples at reception, and there is free Wi-Fi throughout.
Price from £55
he Banys Orientals
8/10
Carrer Argenteria 37, 08003, Born
(268 8460; hotelbanysorientals.com)
The Banys Orientals was an old building on the site of some Turkish baths (hence the name – Banys means baths) transformed into a reasonably modern hotel, with tasteful lithographs on the wall. It is a real winner in Barcelona at this price, with elegant rooms and friendly service that combine to make it consequently quite hard to get into, so book well in advance. Price from £83
Villa Emilia
8/10
Calle Calàbria 115-117, Eixample
(252 5285)
The Villa Emilia is a great-value boutique hotel that works hard to compensate for a location slightly outside of Barcelona's centre, in the left of the Eixample, just off the Gran Via. It is a characterful blend of modern design and antique furniture and artworks, with a lively bar area and a secluded, leafy rooftop terrace. There's no gym or pool, but afternoon tea is laid on (free) at 5pm every day.
Price from £89
(Prices are for a double room in low season, excluding breakfast)
Where to eat for £20 or less
El Portalón
Carrer Bany Nous 20, Barri Gòtic
Set in what were medieval stables, El Portalón has been spruced up a fair bit since, but still has plenty of character. A short walk from the cathedral, it attracts a good few tourists, who come to try local specialities in the form of raciones (bigger than tapas, smaller than a full serving) and a pitcher of house red.
Envalira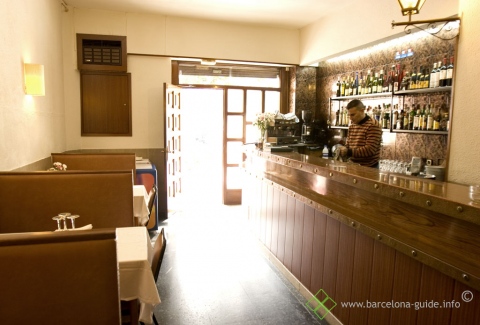 Plaça del Sol 13, Gràcia
This no-nonsense, brightly lit restaurant is a favourite with Gràcia's curious mix of old ladies and students for its good, solid home-cooking at pocket-pleasing prices. Various regions of Spain are represented on the menu, but Galician and Catalan dishes predominate, particularly the classics – arròs negre (rice with squid ink), monkfish stew and tarta de Santiago (something akin to a Bakewell tart).
Los Toreros
Carrer Xuclà 3-5, Raval
The best budget eating in Barcelona is usually found at the old-school joints, and there is none more old-school than this. It's a shrine to bullfighting, which won't appeal to everyone, but its super-friendly waiters, large portions and low prices certainly will. The set meals are usually the way to go, but there are à la carte options if you don't fancy grilled meats.
Dos Trece
Carrer Carme 40, Raval
It's hard to keep up with Dos Trece, which over the years has doubled as restaurant and club, live music venue and now holds tango classes downstairs, but its light, globe-trotting menu has stayed fairly solid. Start with a great salad, ceviche or chicken wings, and follow it up with baked fish, pasta or risotto. Dos Trece was also one of the first places to serve a decent hamburger in Barcelona.
Elisabets
Carrer Elisabets 2-4, Raval
A hectic, traditional neighbourhood joint where the menu is only in Catalan, but it's hard to go wrong. A speciality is the slowcooked osso buco (served only at lunchtime), but otherwise this is mostly familiar fare: piping hot battered squid rings, spicy patatas bravas, ham croquetas and so on. You may have to wait for a table, but turnaround is usually swift.
Bar Celta
Carrer Mercè 16, Barri Gòtic
A fun and often rowdy tapas bar, Celta specialises in Galician food and wine. Those in the know order a bottle of dry albariño – here drunk out of small white bowls – and then a selection of things to share that might include a platter of lacón con grelos (boiled ham with turnip tops), some octopus sprinkled with paprika, and a mountain of pescadito frito (fried small fish).
Related post:
Best Budget Hotels in Barcelona, Spain
The best tips for travelling to Barcelona, Spain
8 tested tips for you before going to Barcelona, Spain