The best budget and luxury hotels in Paris, France
8 Cheap Hotels In Paris With Great Locations
Source:
http://www.huffingtonpost.com/tom-meyers/8-cheap-hotels-in-paris-with-good-location_b_1601385.html
Budget travelers heading to Paris this summer don't need to sacrifice location when searching for an affordable bed for the night. The French capital offers plenty of cheap sleeps right in the center of the action, often steps from some of the city's most famous sights.
Here's a roundup of our favorite well-placed hotels in Paris, most with rates under $100 (about €79). For more hotel recommendations, check out EuroCheapo's guide to Paris.
On the Ile de la Cité: Hotel Henri IV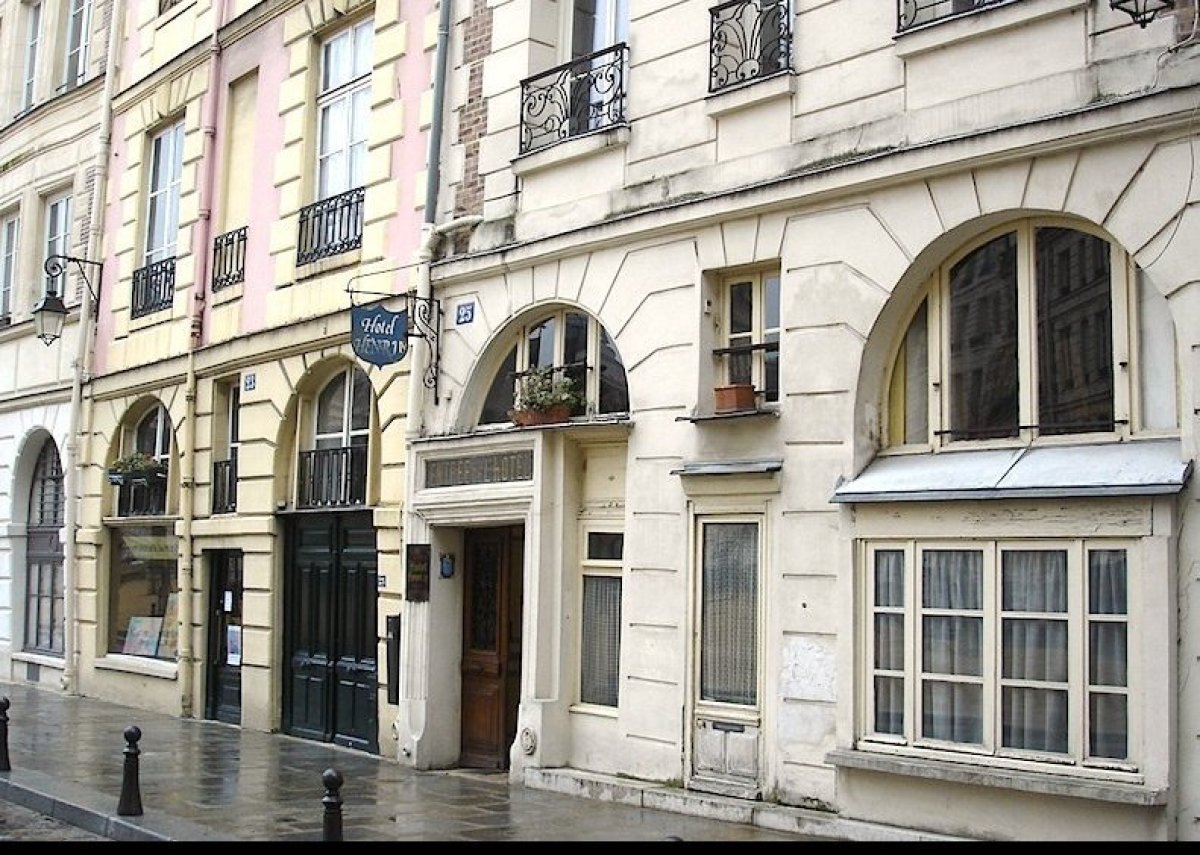 Located in a 17th-century building on the Place Dauphine at the tip of the Ile de la Cité, the historic Hotel Henri IV offers clean, bare-bones rooms. Our favorites look out to the square. You'll be minutes by foot to the Louvre, Notre Dame and the Latin Quarter. Doubles: $73-104
Across from the Sorbonne: Hotel Cluny Sorbonne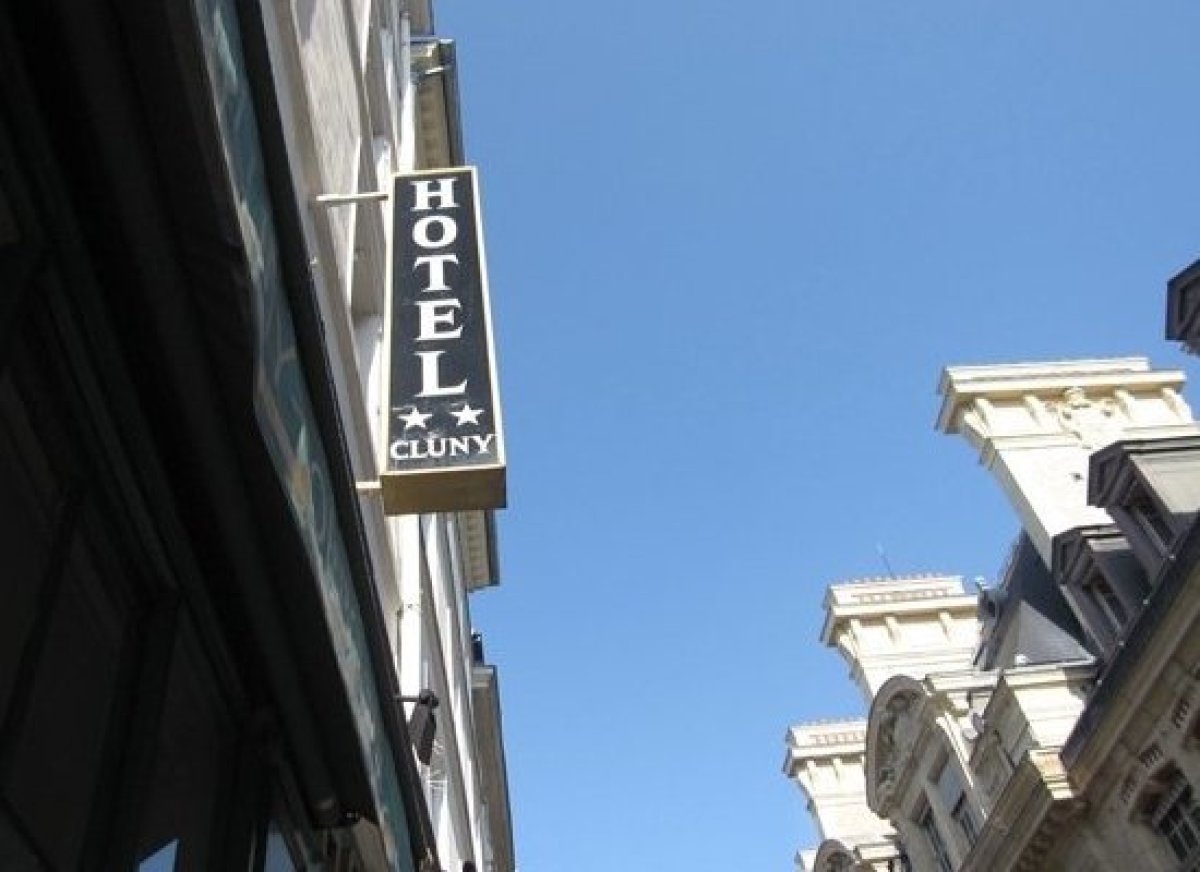 The two-star Hotel Cluny Sorbonne offers cheap rooms, some with dreamy rooftop views, across a small street from the University of Paris / Sorbonne in the Latin Quarter. Rooms are pretty simple, but all have TV, free Wi-Fi and private bathrooms. Romantics take note: The poet Rimbaud stayed here in 1872! Doubles $88-123
Views of Notre Dame: Hotel Esmeralda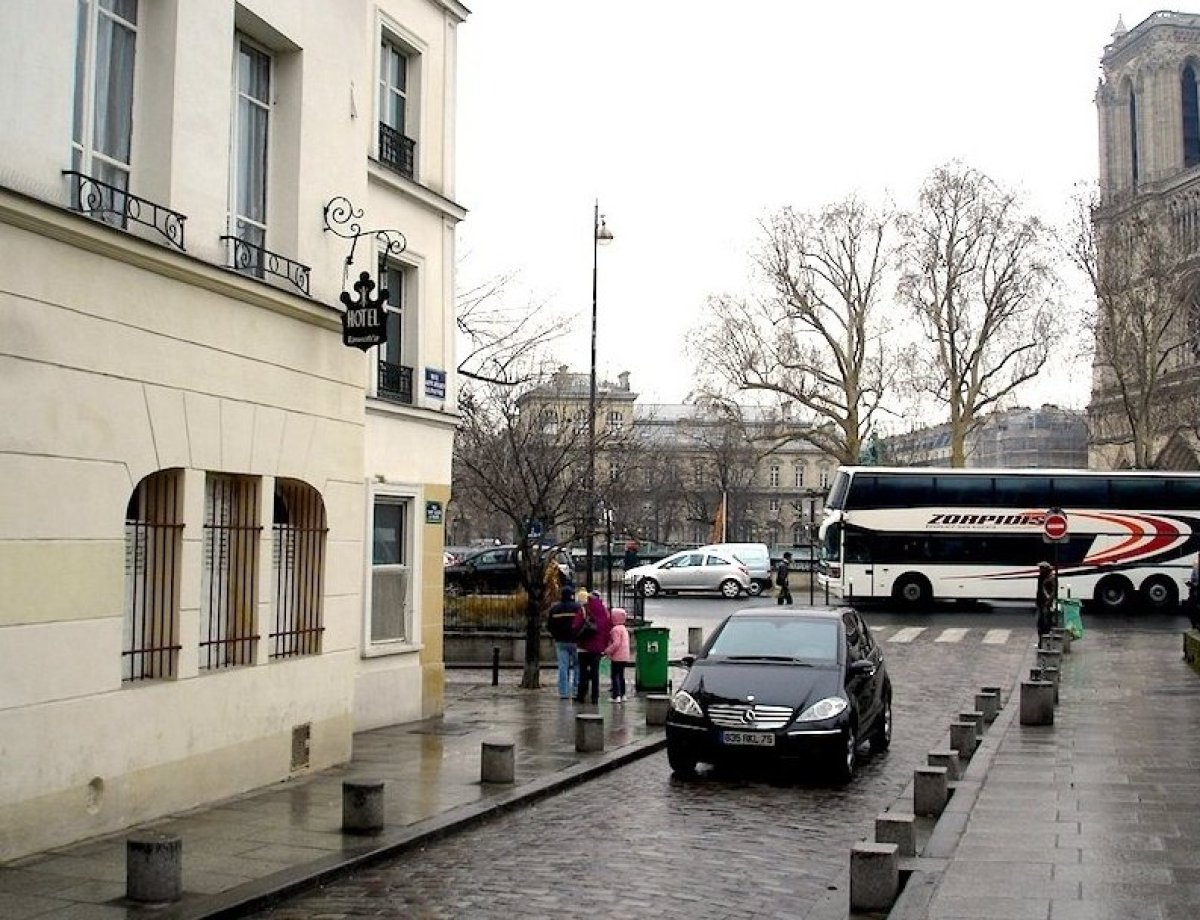 Sitting pretty on the left bank of the Seine in the Latin Quarter, the Hotel Esmeralda is a creaky, funky, dollhouse of a hotel, offering 16 imaginatively decorated rooms, many with direct views across the river of Notre Dame. Rooms have been recently renovated and gently modernized, but, thankfully, haven't become any less eclectic. Doubles: $119-138
In the Latin Quarter: Hotel du Commerce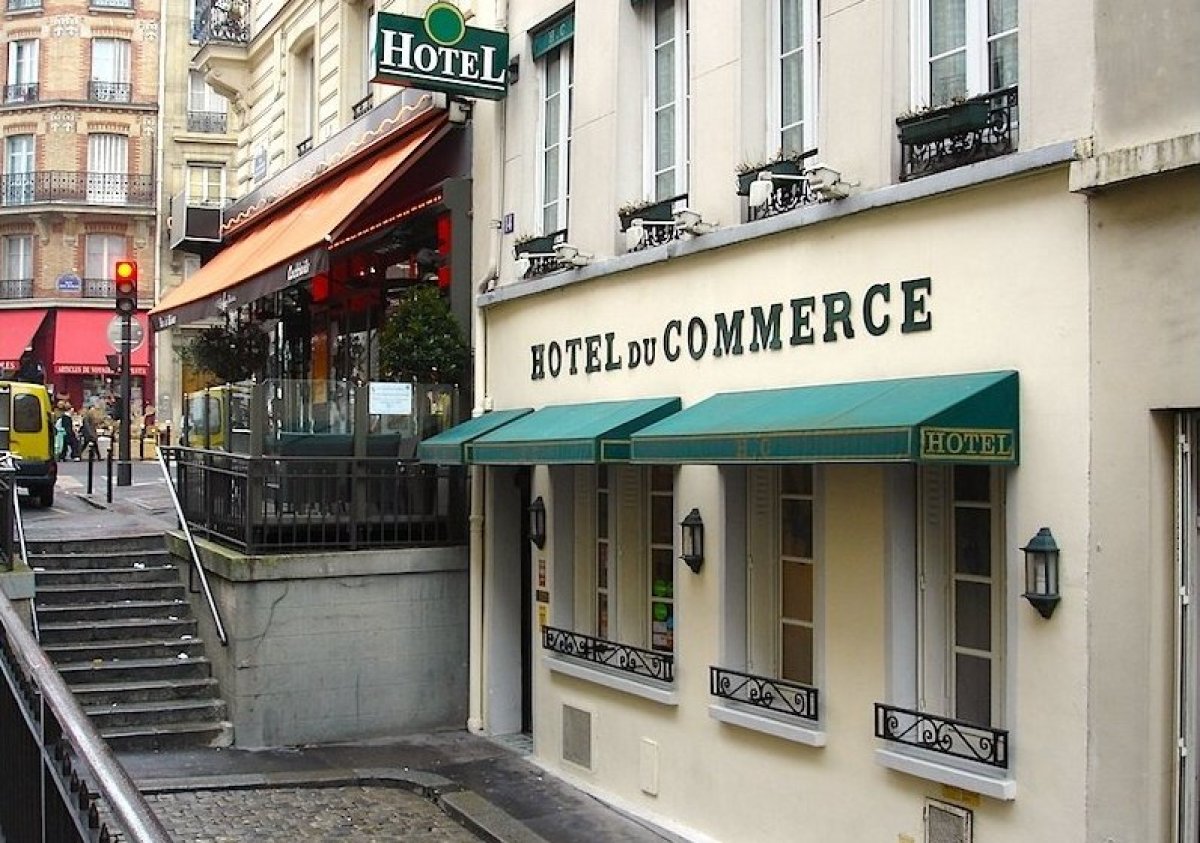 A hotel-hostel hybrid, the one-star Hotel du Commerce puts you in the Latin Quarter of schools and students, not of sandwich joints and trinket shops. Rooms are simple and most share either a toilet or shower with another room. Downstairs, a communal kitchen and dining table comes in handy, given the morning market held at the nearby Place Maubert three days a week. Doubles: $68-93
Across from the Luxembourg Gardens: Résidence du Palais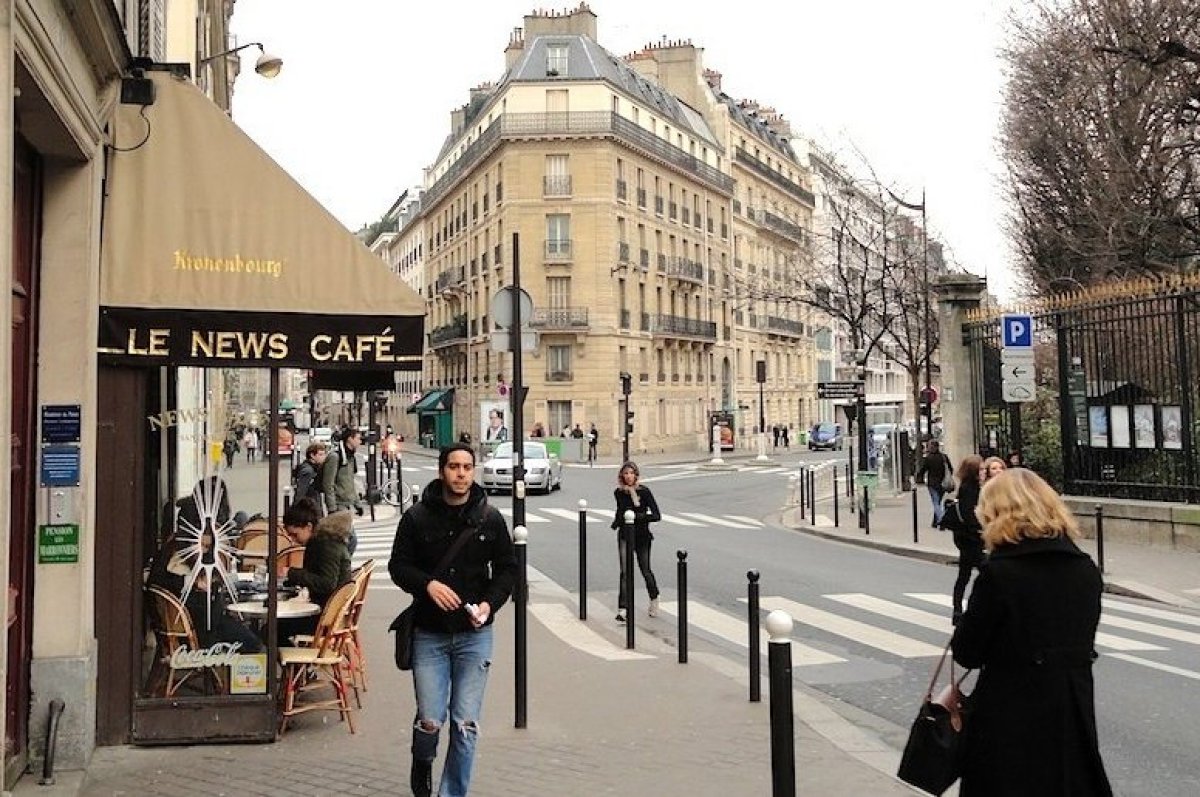 Occupying three floors of an apartment building directly across the street from the Luxembourg Gardens, the Résidence du Palais offers cheery rooms with showers and shared toilets. You'll also be well positioned to hit up the cafés and brasseries of the nearby Boulevard Montparnasse. Doubles: $82-100
Near Grands Boulevards: Hotel des Boulevards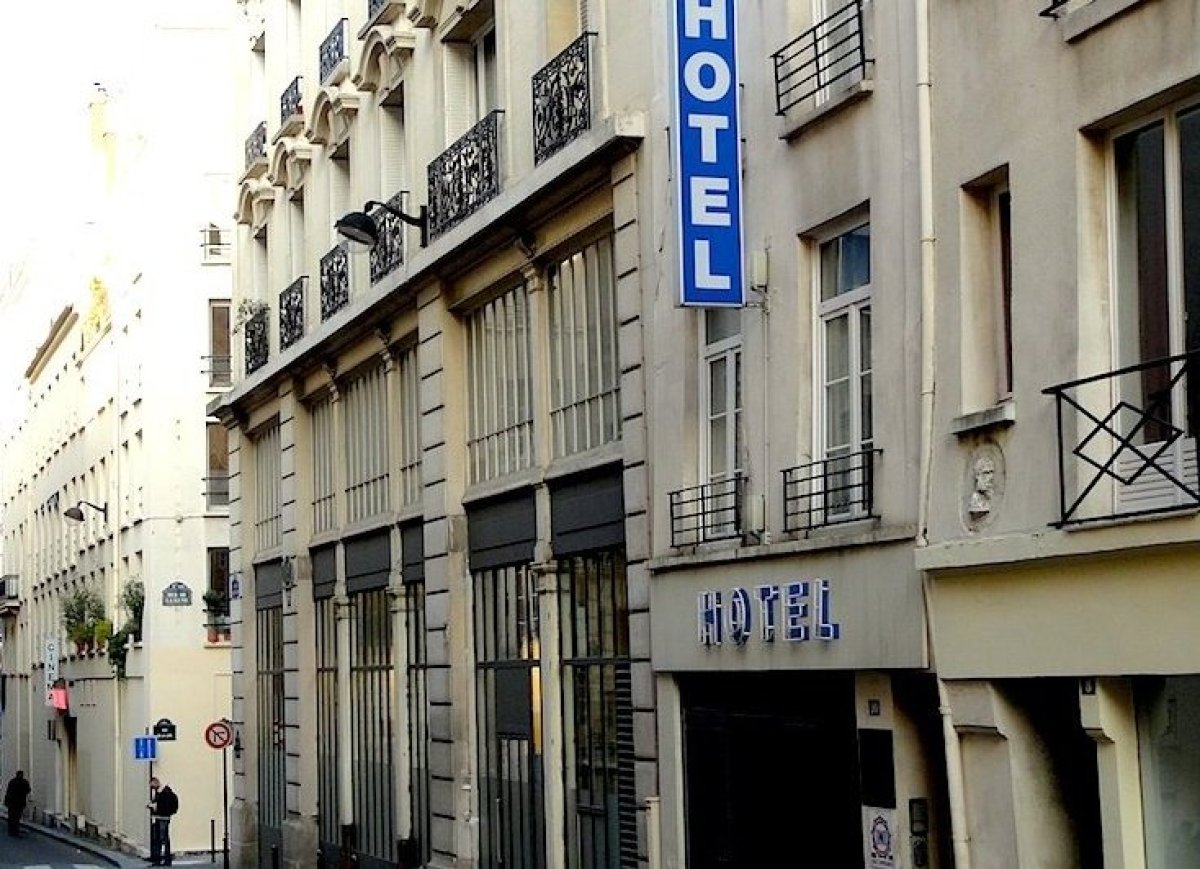 We have a Cheapo crush on the Hotel des Boulevards, located just south of Metro Bonne Nouvelle, near the clubs, bars and restaurants of the 9th arrondissement and nearby rue Montorgueil. Room décor may be dated and furnishings few, but rooms are clean and most are equipped with a private bath. Doubles: $69-88
Heart of the Marais: Grand Hotel du Loiret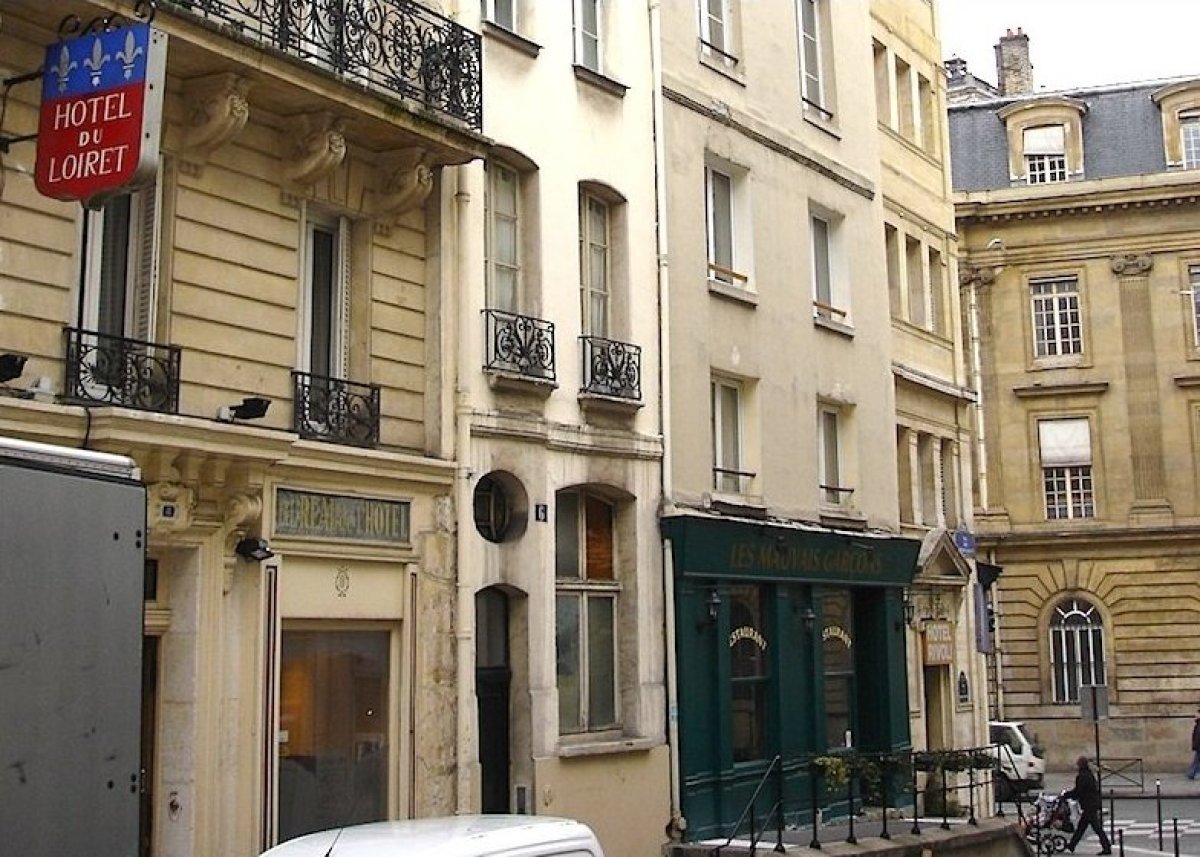 Situated one block from the Hotel de Ville in the Marais, the Grand Hotel du Loiret offers attractive, renovated rooms with free Wi-Fi, TV and private or shared bathrooms. The hotel is perfectly positioned for those on a budget looking to hit up the Marais' bars, restaurants and shops. Doubles $100-126
Near République: Hotel du Nord
Tucked behind Place de la République on a seemingly hidden street, the ivy-covered Hotel du Nord is an enchanting little find, offering well-equipped rooms with private baths and a heavy dose of style. (Free bikes are provided to guests, as well!) Its location, one minute from the République Metro hub, makes a convenient home base, and it's a quick walk to the trendy Marais, Bastille and Oberkampf neighborhoods. Doubles $89-106
You might also like:
30 Best Cheap Hotels in Paris
The best cheap hotels and restaurants in Paris
The 10 best budget hotels in Paris for 2015
Cheap hotels in Paris
The best luxury hotels in Paris
The best luxury, five-star and boutique Paris hotels, reviewed by the Telegraph
Source:
http://www.telegraph.co.uk/luxury/travel/1393/the-best-hotels-in-paris.html
Luxury hotels in Paris vary from some of the world's most opulent classic hotels to modern, trend-setting five-star properties and discreet, boutique boltholes. Here the Telegraph's team of hotel experts give their verdicts on the French capital's most lavish accommodation options.
Prince de Galles hotel, Paris
Dating from the 1920s but recently refurbished, this well-regarded hotel retains an art deco spirit amidst its modern flourishes. Its signature restaurant La Scène is wonderful, but guests should be prepared for compact rooms in some categories and perhaps the occasional hiccup with service.
Read Nick Trend's full Price de Galles hotel review
Hyatt Regency Paris-Madeline, Paris
On the fashionable boulevard Malescherbes in central Paris, the Hyatt Regency Paris-Madeleine is a small, stylish and sophisticated hotel option popular with affluent French and American visitors and, during the week, business people. Rooms are large and well-appointed, and the Presidential Suite impresses with a 360-degree view of all the best sights. Dinner is served at La Chinoiserie, which offers a small but well-thought-out menu.
Read Allan Lamb's full Hyatt Regency Paris-Madeline hotel review
Le Meurice hotel, Paris
One of Paris's palace hotels, Le Meurice is superbly placed for visiting the Louvre, but also for financial affairs or classy shopping on rue St-Honoré. Grand but not stuffy, the hotel was a favourite of Dali and remains a playful escape today – a frosted mirror in the entrance hall invites guests to sign their autograph on its surface. With almost 400 staff, however, service levels never suffer despite these ostensibly light-hearted touches. As for the 160 rooms and suites, they're lavishly decorated in pastel-coloured silks and bergère chairs à la Louis XVI; suites are larger than most Paris apartments. Restaurant Le Meurice is the property's address for fine dining, Le Dali is the more casual option.
Read Natasha Edwards's full Le Meurice hotel, Paris review
Le Royal Monceau Raffles hotel, Paris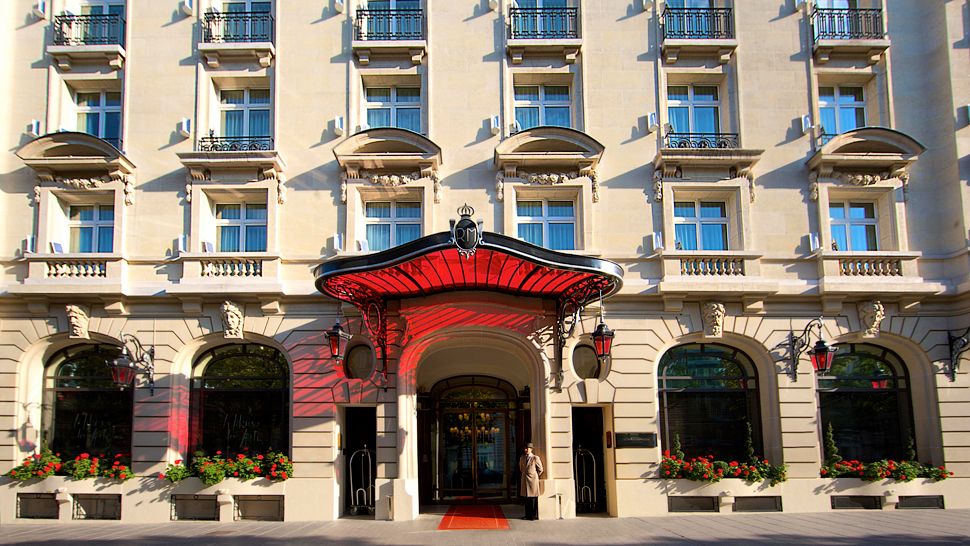 Bedecked with red landerns and with red glass marquise outside, Le Royal Monceau is a naughty-but-nice departure from some of the more traditional grande dame hotels. Affable polyglot staff are always on hand and there's plenty to keep guests at the 149-room property on site. A boutique, art gallery and private cinema are among the facilities, in addition to a My Blend by Clarins spa and two Michelin-starred restaurants.
Read Natasha Edwards's full Le Royal Monceau Raffles hotel, Paris review
Mandarin Oriental, Paris
Fiercely fashionable, the Mandarin Oriental attracts glamorous French couples and impeccably groomed familes from around the world. Despite the property's slick finish, rooms manage to remain plush and warm; their huge bathrooms, with marble-clad features and spacious wet rooms, are the highlight. Fine-dining restaurant Sur Mesure is the main dining option; a beautifully calm spa provides refuge if the buzz and posturing elsewhere becomes too much.
Read Francisca Kellett's full Mandarin Oriental hotel, Paris review
Pershing Hall hotel, Paris
Modern Pershing Hall hotel is a popular address with style-conscious travellers, creative and fashion folk – partially due to its location amid the couture houses off the Champs-Elysées. The contemporary design means this is an alternative accommodation option for those who are tired of Paris's classic hotels. A jungle-like vertical garden by botanist Patrick Blanc is a signature feature, the 26 rooms and suites have been designed by Andrée Putman. In the evening, the bar is a buzzy haunt for cocktails and smart snacks under sexy red chandeliers.
Read Natasha Edwards's full Pershing Hall hotel, Paris review
Relais Christine hotel, Paris
Offering a country house hotel vibe in upmarket St-Germain-des-Prés, the Relais Christine hotel maintains an atmosphere of refined calm and is awash with the aura of centuries of history. The breakfast room is housed within vaulted cellars, the spa is within the remains of a 13th-century Augustinian monastery. Rooms vary, with some featuring high ceilings and tall windows, others have French windows opening directly onto the private rear garden. Apart from breakfast and room service, food isn't served at the property, but its location by the Left Bank means there are plenty of interesting cafes and restaurants nearby.
Read Natasha Edwards's full Relais Christine hotel, Paris review
Shangri-La hotel, Paris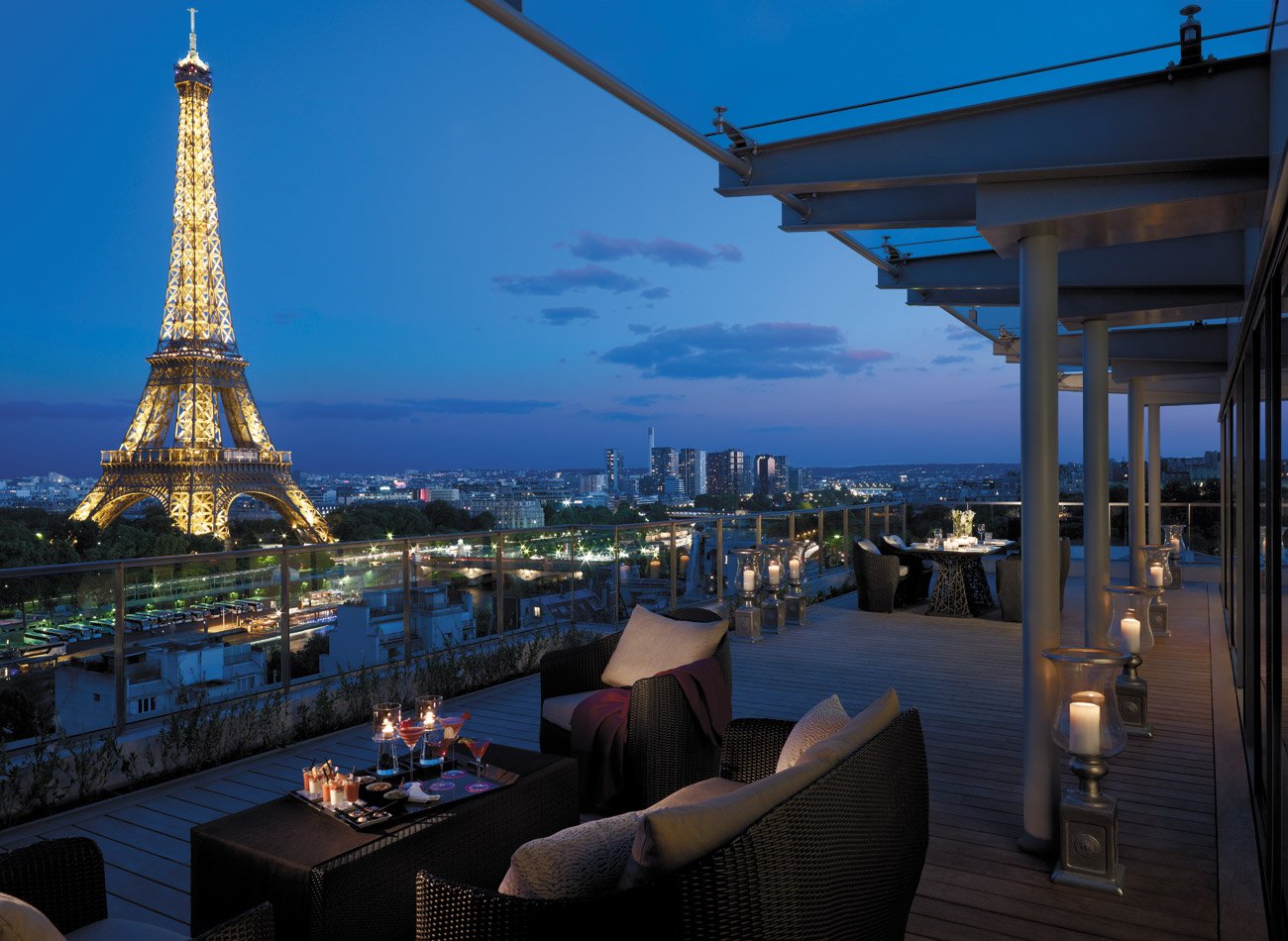 Location is a key to the appeal of the Shangri-La hotel, Paris. So close to the Seine that you can almost touch it, the property offers great views of the Eiffel Tower and is near many of the city's cultural attractions. As for the hotel itself, it is a painstakingly restored building decorated with hand-gilded panelling and neoclassical friezes; the 81 bedrooms vary in size but are generally calmy classical, with deep beds and sofas. The best have large rooftop terraces with astonishing views of the Eiffel Tower. Dining options also abound, with two Michelin starred L'Abeille serving haute cuisine and one Michelin starred Shang Palace serving Cantonese food, all-day Bauhinia serves French and pan-Asian dishes.
Related post:
The best tips and guides for travellign to Paris