Paris travel guides and tips
Paris's Guides and Tips
14 Tips to Make the Most of Your Trip to Paris
Source:
http://www.huffingtonpost.com/travelzoo/14-tips-to-make-the-most_b_3653920.html
As Audrey Hepburn famously said in the film Sabrina, "Paris is always a good idea." We couldn't agree more.
Whether you know it as the city of light, love or one of your bucket list destinations, Paris will leave you longing to return for more.
Our deal experts have strolled along the Champs-Elysees, picnicked on the Place des Vosges, lined up for the Louvre and have a collection of tips that will help you make the most of your days living like a Parisian.
1. Paris' cuisine, particularly that found in the restaurants run by the city's young chefs, is world-class, and quite different from the vision of traditional Parisian dining. A couple favorites include Le Chateaubriand and Agape Substance. -- Mark Fredenburg
2. Make sure to take an afternoon break each day of our vacation for a glass of rosé at an outdoor café. Day trips to Reims (the Champagne region) for a tasting at Veuve Clicquot and to Versailles for a tour of the amazing gardens and palaces at Chateau de Versailles are also worthwhile. -- Angela Shannon
3. Go to Le Marais for falafel and just to wander through the beautiful, historic streets. It feels like visiting Paris in the 1900s. And literary geeks will love seeing where Victor Hugo lived and found inspiration. -- Ashley Hamilton
4. For a romantic spectacle, I recommend the "Pont des Arts" called also the "love bridge" where all the lovers put a padlock then throw the key into the Seine to seal their love. Quite funny to see and has the view on Notre-Dame! -- Betty Noel
5. Head to Rue Mouffetard. This winding street in the 5th arrondissement is packed with cafes, bars and lively restaurants. The street is closed to automobile traffic in the evenings, so it becomes a great place to walk around, while ducking into several places along the way. -- Kevin Kitchen
6. Chez Colette is one of the most chic boutiques in Paris. Roam Rue des Francs Bourgeois in the Marais, which hosts numerous fashion boutiques. -- Stéphane Renard
Related posts:
7. Buy the Paris Museum Pass. We visited the Louvre, Versailles Palace, Arc de Triomphe, Notre-Dame, the Rodin Museum and more. Buying individual tickets for each of these attractions would've cost twice as much. Having the pass also lets you skip the ticket line at both Versailles and the Louvre, which often can be the longest lines to wait in. -- Mary Walker Baus
8. Paris is not just for lovers! I've traveled to Paris with a significant other, with a good friend, with each of my parents and by myself. I've experienced Paris through a different lens each time, all wonderful. Being able to experience the city by myself wasn't as lonely as I had anticipated: It gave me the chance to truly observe and absorb, like I was traveling within a living painting. -- Erica Bray
9. With cities like Paris, the best part is just veering off on your own, and that's just what I did. After taking the most roundabout way to get to the Rodin Sculpture Garden from the First, the loveliest day of my trip was just spent with a book amid the statues and estate, a really great coffee and the sunshine. -- Hilary Solan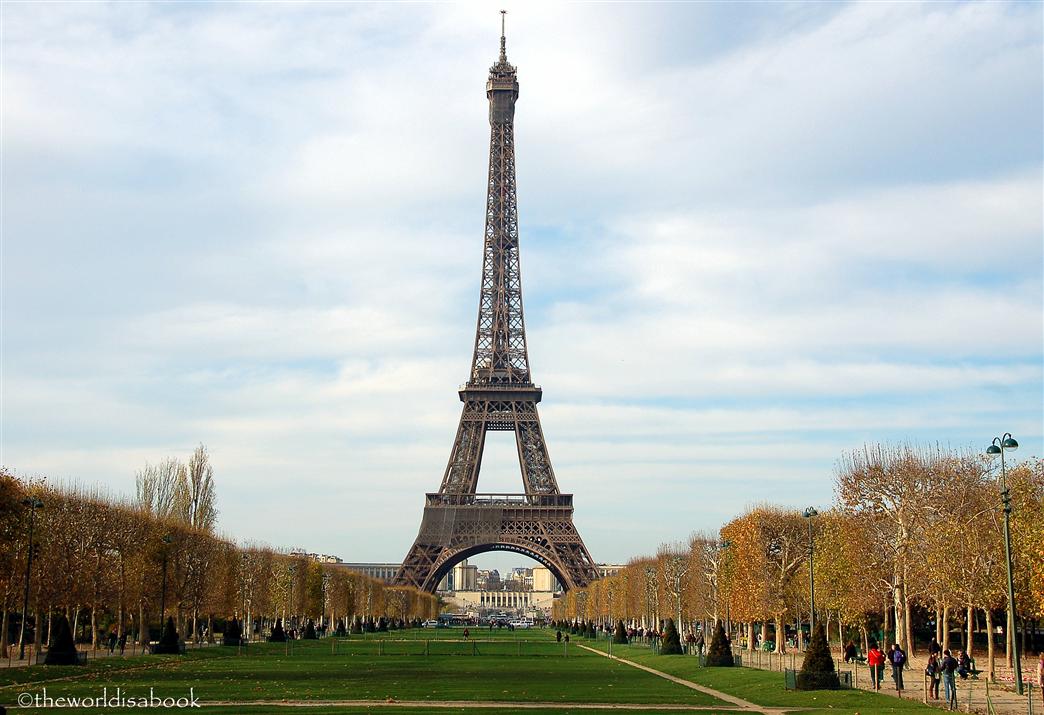 10. The city is full of nice places to discover, but the underground of Paris is also full of secrets. While you visit Paris, take a visit to the Catacombs. During 45 minutes you will go through 1.2 miles of old quarries and navigate Paris underground -- quite a unique experience! -- Betty Noel
11. I went to Paris last year with my mum and we booked a River Seine Champagne cruise through Travelzoo, that really was the highlight of the trip. I cannot recommend it enough it was magical and it would definitely encourage me to book it again. -- Krystina Mitchell
12. While the Louvre is considered the must-see museum in Paris, we enjoyed the Musée D'Orsay more. It's smaller, so it was more digestible for the casual art fan. An added bonus, the view of Paris from the rooftop is Christmas Card picture-worthy. - Andrew Young
13. For a mellow and memorable evening, sit on the steps of the Sacré Coeur with a beer or a bottle of wine and watch the Eiffel Tower come to life and sparkle every hour on the hour until midnight. - Dan Ascher
14. Once you've had an eyeful of the Eiffel, enjoy an offbeat day in Paris by visiting one of the city's more unique museums - there are 200-some to choose from, including a Museum of Perfume. (That's not the Chanel store.) - Greg Kunstler
World-famous museums, unforgettable cuisine and picturesque locales are just the beginning of what this cosmopolitan city offers. With the help of our Travelzoo Paris office, we've sourced the top Paris hotel, vacation and cruise deals for travel through winter. For more tips and exclusive travel deals, visit the Featured Destinations: Paris page.
A French Guy's Practical Tips for a Quick Trip to Paris
Source:
https://www.yahoo.com/travel/a-french-guys-practical-tips-for-a-quick-trip-to-paris-86425737417.html
For years, friends, colleagues, and acquaintances have come to Olivier Knox — a Frenchman turned Chief Washington Correspondent for Yahoo News — for advice about Paris. Yahoo Travel may have already briefed you on how to not look like an idiot in Paris, but some lessons are worth learning twice.
Here's his tricks that even the best-prepared Americans should brush up on:
GENERAL RULES
Restaurant reservations: make them when you can.
Don't go to Paris in August. Everyone is on vacation, restaurants are closed, the city is steaming, and you will be, too, when you realize all you're missing out on.
Paris is a big city. Big-city rules apply. Making eye contact with strangers, smiling at them, saying "Hello" is not encouraged in Paris any more than it is encouraged in New York City. If you're a woman and you smile at a man, he will assume that you are… courting. And that's the charitable interpretation. BUT, there's one big caveat…
Say hello to store clerks. When you walk into that boulangerie to buy the éclairs that you and your kids will devour on one of the green benches in the Jardin du Luxembourg, don't order immediately. First, greet the person behind the register. "Bonjour Monsieur" or "Bonjour Madame" or even a "Good morning sir/ma'am" establishes that you are a polite American familiar with the local culture and not like that one hyena who refused to put out his cigar in a church until someone asked him in English (Yup. True story). If there's a crowd, they may prompt you with an "et pour Monsieur/Madame." But the French think it's rude to define personal interaction solely on the basis of a financial transaction.
Let your guard down. Your visit to Paris shouldn't feature any sparring with garçons in cafés, or waiters, or cab drivers. The vast majority of folks in the tourism industry speak English, many of them shockingly well. The younger folks are a lot friendlier to Americans — and Americans have generally learned to be better tourists.
Baguettes to go at a boulangerie. (Photo: Franck Vervial/Flickr)
ATTIRE
Sweatshirts are okay — sometimes. The French have grown more comfortable with more comfortable clothes, but there are still some unspoken rules. Don't worry about your college sweatshirt if you're just sightseeing. French youth wear them too, though they are often fictional institutions (my all-time favorite was "High School University," complete with fake official seal).
Who wears short shorts? Nobody. In general, they're dicey. If you're visiting a church, wear pants, please. In fact, pants in general. Shorts amount to carrying a sign that says "Bawnjur, we're tourists." Short shorts are an absolute no. Tank tops? Non. Sneakers? Fine for sightseeing. But nicer restaurants will have a dress code. Find out before you go.
Read more:
https://www.yahoo.com/travel/a-french-guys-practical-tips-for-a-quick-trip-to-paris-86425737417.html
Related posts:
See more tips:
First time Paris: top tips for your first visit to the City of Light
http://www.lonelyplanet.com/france/travel-tips-and-articles/first-time-paris-top-tips-for-your-first-visit-to-the-city-of-lights
Paris travel tips & articles
http://www.lonelyplanet.com/france/paris/travel-tips-and-articles
Just Back From Paris with a Few Travel Tips
http://www.tripadvisor.com/ShowTopic-g187147-i14-k6895540-Just_Back_From_Paris_with_a_Few_Travel_Tips-Paris_Ile_de_France.html
Paris Travel Tips
https://www.pinterest.com/explore/paris-travel-tips/