Best time for travelling to New York, USA
Best Time to Visit NYC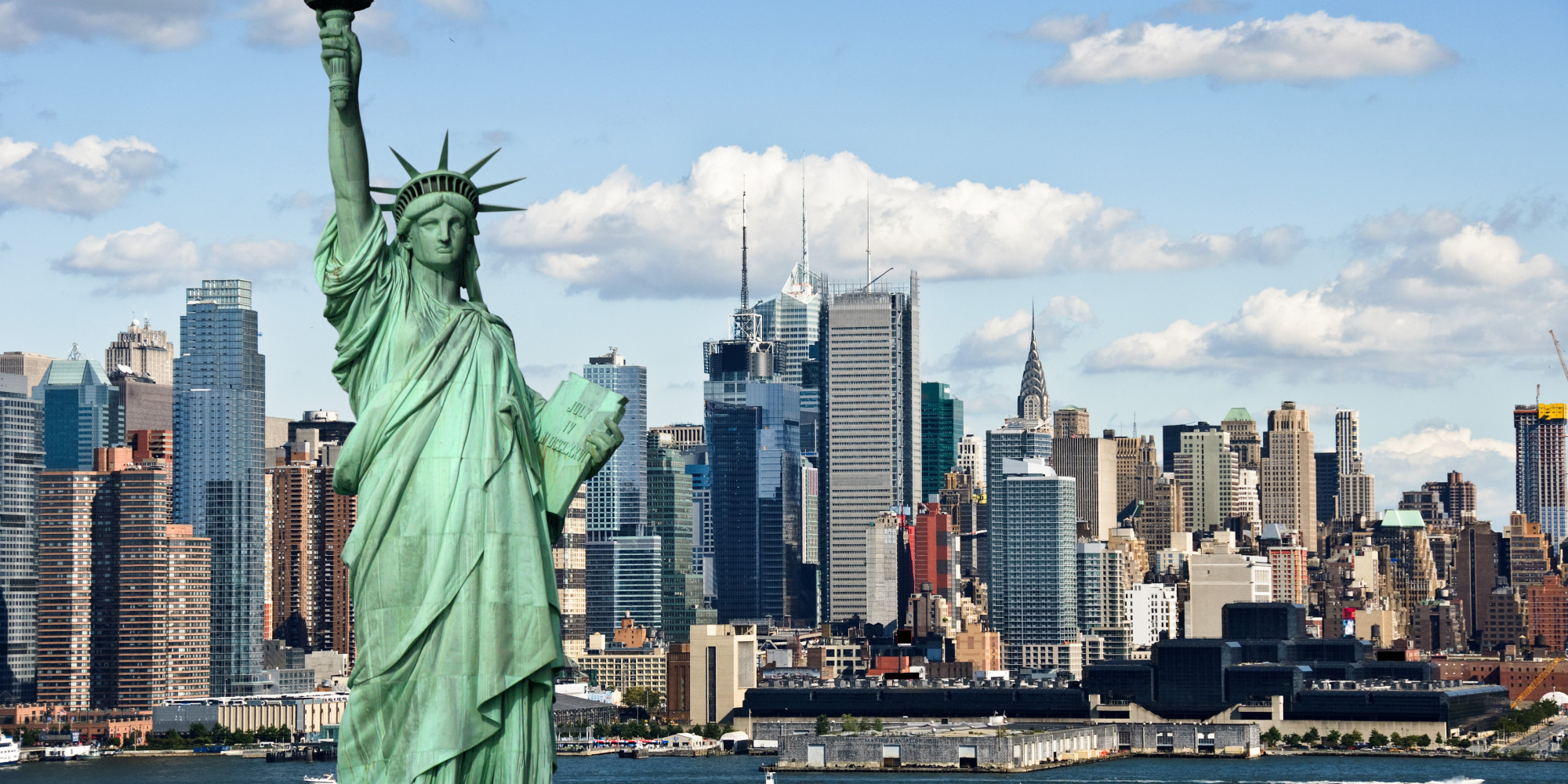 Source:
http://www.newyork.com/articles/travel/best-time-to-visit-nyc-71484/
The best time to visit NYC really depends on the purpose of your visit. Unlike some destinations, New York does not have a clear "peak season" which means that prices hold pretty steady year-round (you'll be hard pressed to find hotels for less than $200 per night any time of year, for example). The closest thing the city has to an "off period" is in January and February, when the weather is at its coldest and hotel occupancy dips briefly in between the craze that is New Year's Eve and the energy that comes with the longer days and warmer weather of spring. To help you determine when to go to New York, we have outlined the draws and drawbacks of each of the seasons below.
Jan-March
January through March are the closest months New York City has to an off season. It is the only time of year when hotel occupancy rates dip below 90 percent, which means that visitors have a better chance of scoring lower rates on hotel rooms. January and February are also two of the quietest months on Broadway, making it a good time to nab tickets at below market prices. In March, new shows begin to open on Broadway for the spring season and ticket prices start to pick up again. There is a reason for the slowdown, of course, and that is the icy New York winter. January is the coldest month of the year, with temperatures ranging from 23 degrees F on the low end to 36 degrees F on the high end and it's not much better in February. Things start to thaw slightly in March, but not by much – expect temperatures between 32 to 48 degrees F. During this time of year, the city celebrates events such as Valentine's Day (almost every restaurant rolls out some kind of Valentine's Day menu), St. Patrick's Day, Fashion Week and the Westminster Dog Show.

April-May
Spring in New York brings warmer (if unpredictable) weather and lots of rain. Temperatures range from 42 degrees on the low end to 68 degrees F on the high end. It's also when flowers start to emerge from their long winter slumber – most notably, the cherry blossoms, which start to bloom in April and are celebrated en force at the Brooklyn Botanical Garden. May brings a great deal of energy and excitement to the city, as the sun begins to shine more, the air gets warmer and restaurants start spreading their tables onto the sidewalk. May also brings Cinco de Mayo – the Mexican holiday that New Yorkers love to celebrate with margaritas, opening day for the Mets and the Yankees, the Tribeca Film Festival and the beginning of the Broadway awards season, which runs until June. Broadway shows that have been nominated for a Tony Award will experience a slow creep in ticket prices, but it's still worth it to book that show you've been dying to see now because if it wins a Tony, you can bet you'll be paying much, much more to see it (if you can get tickets at all). Toward the end of the month, Memorial Day kicks off the unofficial beginning of summer, when beaches open.
Related posts:
June-Aug
Summer in New York feels like one big party. Free activities abound, from outdoor movie screenings to Shakespeare in the Park to kayaking on the Hudson. Expect plenty of sunshine and temperatures that average around 80 degrees F, though it isn't unheard of for temperatures to climb into the 90s (102 degrees F is the highest temperature on record). The city feels hot and muggy, driving locals who can afford it to their beach houses in the Hamptons over the weekend. Most New Yorkers flee the city for at least a couple of days in August. The Broadway awards season culminates with the prestigious Tony Awards in June and if you haven't already bought tickets to the winning shows, you can expect to pay top dollar to see them (if you can get tickets at all). It seems like every other weekend there is some kind of festival or parade taking place, between the Feast of San Genaro, the Pride Parade, Independence Day, the 4 Knots Festival, the National Puerto Rican Day Parade and the Coney Island Mermaid Parade (to name a few). You'd be wise to book your summer trip at least three months in advance to lock in rates and spaces at hotels and shows. Note, however, that some restaurants don't allow you to book farther than one month in advance.
Sept-Oct
Labor Day marks the end of the summer season in New York and brings a renewed sense of focus and purpose to the city, which buzzes with back to school specials and, for many businesses, a return to normal business hours from the reduced "summer Friday hours" some companies enjoy. Summer events such as movie screenings and Shakespeare in the Park go into hibernation until the following year and temperatures start to cool down – expect 60 to 70 degree F weather in September and anywhere from 50 to 60 degree F weather in October. Fall brings a whole host of new shows to Broadway. It also happens to be a quieter season on the Great White Way, which means that there are deals to be had and the seats that you want will likely be available. Late September ushers in the beer-laden Oktoberfest and October brings with it crisper weather and fall foliage, which can be enjoyed in a myriad of ways, both in and outside the city limits. And, of course, October goes out with a bang each year as New Yorkers big and small don costumes and the city pulls out all of the stops to celebrate Halloween with the Halloween parade.
Nov-Dec
The holiday period from November to December is one of the most magical seasons in New York. The city is ablaze with holiday lights, stores put out their best window displays, restaurants unveil their holiday menus and seasonal shows such as the Radio City Christmas Spectacular and the Nutcracker dazzle locals and visitors alike. Broadway typically sees new shows open and quite a bit of buzz circulates about what's hot and what's not in regard to the new shows on the block. If you want to see a show during this period it is advisable to book early as tickets tend to sell out and prices are at a premium. Notable events during this season are many, from the New York Marathon and Macy's Thanksgiving Day Parade in November to Christmas, Hannukah, Qwanza and New Year's in December. November weather starts to get chilly (anywhere from the 40s to the 50s degrees F) and by December temperatures have dipped into the 30s and 40s degrees F.
When to Go
Summer or winter, rain or shine, there's always great stuff going on in New York City, so when you're planning a trip to New York City, there's no real "best" or "worst" time to go.
Culture hounds might come in fall, winter, and early spring, when the theater and performing-arts seasons reach their heights. During summer, many of the top cultural institutions, especially Lincoln Center, offer free, alfresco entertainment. Those who want to see the biggest hits on Broadway usually have the best luck getting tickets in the slower months of January and February.
Gourmands might find it easiest to land the best tables during July and August, when New Yorkers escape the city on weekends. If you prefer to walk every city block to take in the sights, spring and fall usually offer the mildest and most pleasant weather.
New York is a nonstop holiday party from early December through the start of the New Year. Celebrations of the season abound in festive holiday windows and events such as the lighting of the Rockefeller Center tree and the Radio City Christmas Spectacular—not to mention those terrific seasonal sales that make New York a holiday shopping bonanza.
However, keep in mind that hotel prices go sky high, and the crowds are almost intolerable. If you'd rather have more of the city to yourself—better chances at restaurant reservations and shows, and easier access to museums and other attractions—choose another time of year to visit.
Money Matters
Hotel prices are always fairly high in New York, though the current economic troubles have softened the market considerably; still, you might want to follow these rough seasonal guidelines.
Bargain hunters might want to visit in winter, between the first of the year and early April. Sure, you might have to bear some cold weather, but that's when hotels are suffering from the post-holiday blues, and rooms often go for a relative song — a song in this case may mean a room with a private bathroom for as little as $150, or even less. AAA cardholders can do even better in many cases (around 10% savings at certain hotels). However, be aware that the occasional convention or event, such as February's annual Fashion Week, can sometimes throw a wrench in your winter savings plans. Spring and fall are traditionally the busiest and most expensive seasons after holiday time. Don't expect hotels to be handing you deals, but you may be able to negotiate a decent rate.
The city is drawing more families these days, and they usually visit in the summer. Still, the prospect of heat and humidity keeps some people away, making July and the first half of August a cheaper time to visit than later in the year; good hotel deals are often available.
During the Christmas season, expect to pay top dollar for everything. The first 2 weeks of December—the shopping weeks—are the worst when it comes to scoring an affordable hotel room; that's when shoppers from around the world converge on the town to catch the holiday spirit and spend, spend, spend. But Thanksgiving can be a great time to come, believe it or not: Business travelers have gone home, and the holiday shoppers haven't yet arrived. It's a little-known secret that most hotels away from the Thanksgiving Day Parade route have empty rooms, and they're usually willing to make great deals to fill them.
Weather
Many consider that long week or 10 days that arrive each summer between mid-July and mid-August, when temperatures can go up to as high as 100°F (38°C) with 90% humidity, as New York's worst weather. Don't get put off by this—summer has its compensations, such as wonderful free open-air concerts and other events, as mentioned—but bear it in mind. If you are at all temperature sensitive, your odds of getting comfortable weather are better in June or September.
Another period when you might not like to stroll around the city is during January or February, when temperatures are commonly in the 20s (below 0°C) and those concrete canyons turn into wind tunnels. The city looks gorgeous for about a day after a snowfall, but the streets soon become a slushy mess. Again, you never know—temperatures have regularly been in the 30s and mild 40s (single digits Celsius) during the past few global-warmed winters. If you hit the weather jackpot, you could have a bargain bonanza (see "Money Matters," above).
Fall and spring are the best times in New York. From April to June and September to November, temperatures are mild and pleasant, and the light is beautiful. With the leaves changing in Central Park and just the hint of crispness in the air, October is a fabulous time to be here—but expect to pay for the privilege.
If you want to know what to pack just before you go, check the Weather Channel's online 10-day forecast at www.weather.com; I like to balance it against CNN's online 8-day forecast at www.cnn.com/weather. You can also get the local weather by calling tel. 212/976-1212 or the National Weather Service at tel. 631/924-0517.
Holidays
Banks, government offices, post offices, and many stores, restaurants, and museums are closed on the following legal national holidays: January 1 (New Year's Day), the third Monday in January (Martin Luther King, Jr., Day), the third Monday in February (Presidents' Day), the last Monday in May (Memorial Day), July 4 (Independence Day), the first Monday in September (Labor Day), the second Monday in October (Columbus Day), November 11 (Veterans Day/Armistice Day), the fourth Thursday in November (Thanksgiving Day), and December 25 (Christmas). The Tuesday after the first Monday in November is Election Day, a federal government holiday in presidential-election years (held every 4 years, and next in 2012).
Read more:
http://www.frommers.com/destinations/new-york-city/663717#ixzz3isKObVhb
Related posts:
See more articles:
Best Times to Visit New York City:
http://travel.usnews.com/New_York_NY/When_To_Visit/
http://traveltips.usatoday.com/time-visit-new-york-city-12031.html
New York City Weather and Your Visit:
http://www.nycbynatives.com/visitors_center/nyc_weather.php
New York City Weather and When to Go:
http://www.tripadvisor.co.uk/Travel-g60763-s208/New-York-City:New-York:Weather.And.When.To.Go.html
New York City Month By Month:
http://gonyc.about.com/od/holidays/tp/new_york_city_month_by_month.htm
New York city's Events
http://www1.nyc.gov/events/
http://www1.nyc.gov/events/events-filter.html