Best restaurants in Rome, Italy
10 of the best restaurants in Rome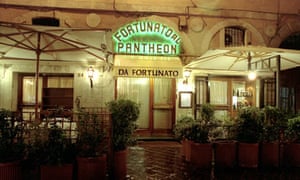 Frequented by politicians of many persuasions, the comfortable tables are not crowded and the service is friendly but very professional. The menu is classic Italian cooking and every day there is also a list of the chef's suggestions offering simpler dishes like meatballs with artichokes. The general menu offers classic pasta like spaghetti alle vongole and in season they serve delicious tagliolini with white truffles and fresh funghi porcini. The fresh fish is chosen with care and prepared in all the traditional ways and the chef also has a masterly hand with the top quality meat. There is a good wine list and a reasonable house wine. In warmer months there are tables set outside.
• Via del Pantheon 55, +39 06 679 2788, ristorantefortunato.it. Closed Sun. Average €40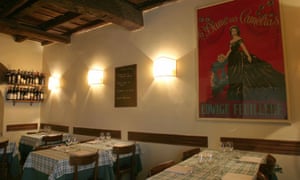 This small restaurant near Campo dei Fiori is lively and inviting with its beamed ceilings and stone arches. It is rather dark so it's best in the heat of summer or when the weather is bleak outside. The good varied menu combines Roman specialities like cacio e pepe (pasta with pecorino romano sheep cheese and black pepper) with interesting innovations like thin slices of crisp potato with cheese fonduta (fondue) and slivers of black truffles. The little aubergine timbales and specialities from other Italian regions are very good. There is an excellent wine list with fair prices and an unusually good selection of half bottles. Signora Antonia comes in each day to make the fresh pasta for the restaurant and she is also responsible for the delicious desserts on the menu.
• Piazza della Cancelleria 74, +39 06 687 1626, ristoranteditirambo.it. Closed for lunch on Mon. Average €30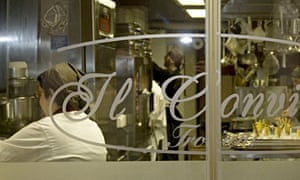 The Troiani brothers, Massimo, Giuseppe and Angelo opened Convivio at its original address in Via dell'Orso in 1990. Today it is regarded as one of the best restaurants in the city. It is a place for special occasions with its elegant rooms and beautiful tableware. The menu is an exciting mixture of old and new. Many of the traditional Roman favourites are given a new twist, such as "new style" boneless oxtail with celeriac puree, and Angelo combines seasonal ingredients with panache in his new creations. This is great designer food and people are encouraged to order a series of half portions to create their own tasting menu. Most of the great wines are present on the wine list and Massimo is happy to suggest different glasses of wine to go with each dish ordered.
• Vicolo dei Soldati 31, +39 06 686 9432, ilconviviotroiani.com. Closed for lunch and Sun. Average €120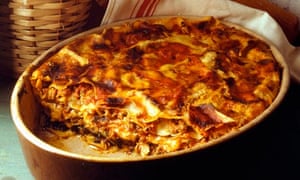 Tavernaccia Photograph: Alamy
Family-run, frequented mainly by locals and cheerfully chaotic, but the service is warm and friendly and the food is good Roman fare. Start with garlic bruschetta served with prosciutto, sliced by hand, and then try one of the excellent traditional pastas. This is a place to order family-style lasagna when available and then one of the prepared main dishes, although the grilled meat and fish are equally good. Vegetables in season are on the menu and there are a few homemade desserts. The wine list is small, but carefully chosen with fair prices. At dinner, the pizzaiolo is busy working away at his corner oven. The summer sees tables outside on the pavement.
• Via Giovanni di Castel Bolognese 63, +39 06 581 2792, latavernaccia.com. Closed Wed. Average €25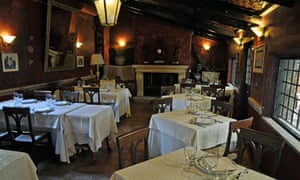 Photograph: caribb on flickr/ Some rights reserved caribb/Flickr
This former post house opposite the catacombs on the old Appian Way is a warm, welcoming restaurant with its open fire and walls lined with wine. In warmer months meals are served in the beautiful garden with its 300-year-old wisteria and Roman remains. The extensive menu satisfies all tastes and is a good mixture of traditional and new. There is excellent grilled meat served with a wide choice of sauces using olive oil from the Sabine hills, and the very fresh fish appears in an interesting way at every course. The antipasti selection ranges from cheese and salami to vegetables and seafood, while the very fertile area just south of Rome – the Ciociaria – inspires several pasta dishes.
• L'Archeologia, Via Appia Antica 139, +39 06 788 0494, larcheologia.it. Closed Tue. Average €60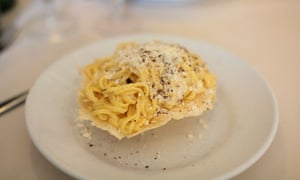 Photograph: atswoff on flickr/ All rights reserved atswoff/Flickr
A gem tucked away in one of the most beautiful piazzas in Trastevere, surrounded by fading ochre and terracotta buildings. As the name suggests it is a survivor of a side of Rome that has almost disappeared and represents an oasis in a desert of bad food. In summer the tables are set out in the piazza and one can sit with a glass of wine enjoying the simple dishes of la cucina romana. The menu is short but most people come for the delicious cacio e pepe pasta, made with pecorino cheese and black pepper, served on a crisp shell of Parmigiano and the cozze alla marinara – mussels with garlic, chilli pepper and a hint of tomato.
• Piazza di Santa Cecilia 24, +39 06 580 0757, romasparita.com. Closed Sun and Mon at lunch. Average €25
As the name suggests this is a Tuscan restaurant, and it serves some of the best meat in the capital. A chilled glass cabinet stands at the entrance, hung with massive pieces of meat. There are many dishes on the menu but most customers choose the grilled beef, which can be accompanied by fagioli al fiasco, dressed with prize-winning olive oil, or thinly sliced fried potatoes and Roman artichokes standing on their head. Starters include hearty ribollita or faro soup and the long Tuscan pasta, pici, while in season the tantalizing aroma of tagliolini al tartufo bianco issues an almost irresistible invitation. Wines from all regions are listed and you can finish with a good homemade dessert. In summer there are tables outside.
• Via Germanico 58/60, +39 06 397 25717, ristorantedaltoscano.it. Closed Mon. Average €40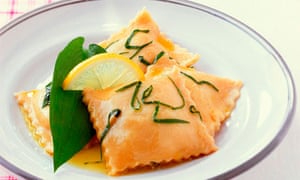 Vascello, high up in the Monteverde area of Rome, is run by two Sardinian couples. In summer the tables outside get all the breeze and provide a welcome escape from the heat of the centre. The large ravioli with ricotta and lemon zest and the spaghetti with bottarga (cured fish roe) are Sardinian gems but Angelo also makes some of the best carbonara and matriciana in Rome. In the evening you can order thin, crispy pizza and there is a good choice of meat and fish dishes. Angelo's wife, Dorina, makes the delicious desserts and since her torta di ricotta sells out every evening do ask her to save a portion for you if you are eating later. Try the Terre Bianche wine.
• Via G Massari 8, off Via dei Sprovieri, +39 06 580 6517. Closed Tue. Average €28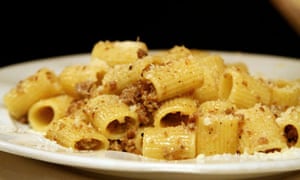 Il Tempio attracts the many Romans who love good seafood. Francesco and Cristina are passionate, often driving to two fish auctions a day to get the finest catch. The fish here deserves the ultimate Italian accolade: "It knows the sea". The creative hot and cold antipasti are delicious but the pasta with granseola – spider crab – is delectable and the sword fish agnoletti with red pepper sauce must be ordered when on the menu. If you want to sample the excellent fish for main course, or the desserts, you will need to skip the antipasti or pasta. A good wine list completes the pleasure. There are tables outside in the warmer months and an elegant new sala downstairs.
• Via Verri 11, off Via Labicana, +39 06 700 4741. Closed Sun. Average €50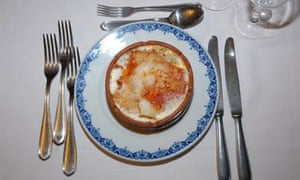 Cecilia Metella, daughter-in-law of the legendary Roman general and politician Crassus (reputedly the wealthiest man in Roman history), has a splendid tomb on the Appian Way. From the restaurant you can see the crenulated tower through the trees – it has inspired scrigno, a speciality pasta cooked and served in terracotta bowls. There is a large, magical garden and generations of children have allowed the adults to enjoy their meal as they gaze entranced at the turtles and goldfish around the fountain. If not scrigno, there is also the ziti al prosciutto, but to really enjoy this sinfully buttery dish you must throw dignity to the wind and tie your napkin round your neck. There is good grilled meat and fish or the flaming pollo al Nerone. Finish with the little wild strawberries from Nemi. In winter it's worth booking a table near the fire.
• Via Appia Antica 125-127, +39 06 513 6743, ceciliametella.com. Closed Mon. Average €35
See more restaurants:
The 10 Best Rome Restaurants
10 GREAT RESTAURANTS IN ROME
Rome restaurants