Best hotels in Tokyo, Japan
Tokyo's top hotels
The moderate, the expensive, the incredibly pricey and the ridiculous; Tokyo's towers of costly comfort
By Nicole Fall
Source:
CNN
Tokyo may have a hotel problem -- in a good way. "Tokyo is unique in Asia, in that there isn't one 'best' hotel. Guests have a choice of varied, yet equally spectacular properties to choose from when picking a luxury hotel in Tokyo," says Derek Ong, a luxury travel consultant.
With so many options, however, it is easy to get lost. The following guide will help you navigate the choices to find the perfect pillow to rest your head.
Moderate
Andon Ryokan
Japanese knickknacks adorn this charming family-run joint, and its friendly English-speaking proprietors clearly relish their role as intermediary between East and West. The Andon ("lantern" in Japanese) is a modern ryokan, meaning patrons sleep on Japanese futons or thin mattresses on the floor, which are made up nightly and then neatly folded away each morning. Warning: Bathrooms on each floor are shared between guests and room sizes are tighter than a gnat's ass.
Andon Ryokan: Nihonzutsumi 2-34-10, Taito-ku, tel. +81 (0) 3 3873 8611.
Shibuya Granbell Hotel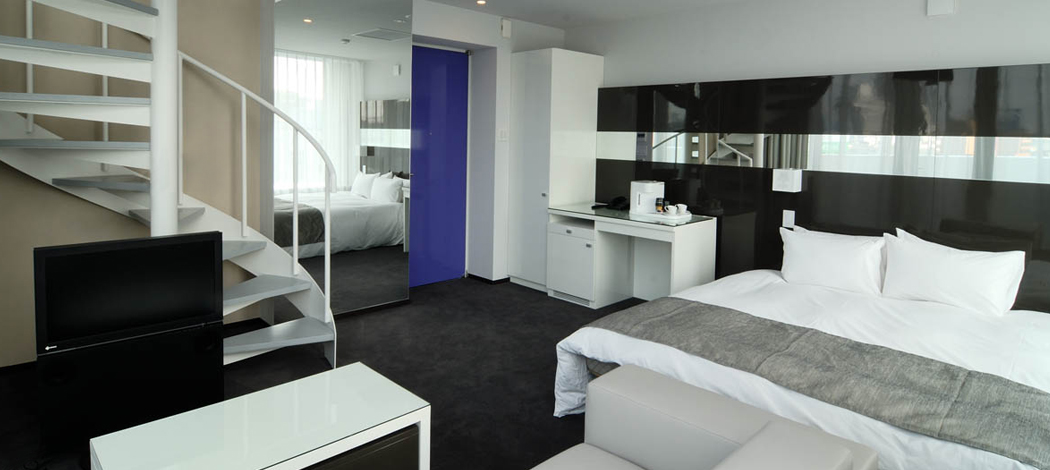 The Granbell has loads going for it. It's cheap, it's cheerful and it's right next to Shibuya station. However, scratch beneath the service and its miniscule rooms, weird 'International' breakfast, lack of English language and "rooms by the day-rate" could freak out the more conservative visitor. There is also a sister establishment in Akasaka (Akasaka 3-10-9, Minato-ku, tel. +81 (0) 3 5575 7130).
Shibuya Granbell Hotel: Sakuragaoka-cho 15-17, Shibuya-ku, tel. +81 (0) 3 5457 2681.
Royal Park Tokyo
Close to the capital's oldest temples in what's euphemistically known as 'downtown Tokyo,' the hotel's mainstays are suits on business trips and out-of-towners on sightseeing trips. This is a shame because the hotel offers the best value in Tokyo, offering five-star digs at yen-pinching prices. Industry insiders rate its breakfast bar as having the best omelettes in the city and "no frills, generously proportioned rooms."
Royal Park Hotel: Nihonbashi-Kakigara-cho 2-1-1, Chuo-ku, tel. +81 (0) 3 3667 1111.Tokyo's best hotels
Claska Hotel in Meguro.
The Claska has the unfortunate honor of being known as Tokyo's only "boutique" hotel. The over-used terminology does not do the nine-room property justice. Luxuriously remodelled from an old business inn once called Hotel New Meguro, the minimalist Claska is a precious haven from the cookie cutter, uniform interiors witnessed at most hotels. In fact the hotel feels slightly rough at the edges, possessing a natural energy that international hotel operators would pay millions of dollars to replicate.
The Claska's location is not for everyone, however. It's situated in the suburbs a good 20 minutes walk from Meguro station and 10 minutes from the slightly obscure Gakugei Daigaku station on the Toyoko Line.
Claska: Chuo 1-3-18, Meguro-ku, tel. +81 (0) 3 3719 8121.
Related posts:
Gotanda Arietta Hotel & Trattoria
Authentically baked continental style cakes and bread sold at the hotel's in-house bakery are the main draw of this hotel. In fact, many of the grand dames who live nearby in this upscale neighbourhood call the Arietta bakery their second home, so frequent are their visits. What are the rooms and facilities like, we hear you say? Pared back, simple and at these prices the best deal in a not-so-central location. Oh yes, bread, coffee and juice served mornings, complimentary to all paying guests.
Gotanda Arietta Hotel & Trattoria: Higashi-Gotanda 2-5-2, Shinagawa-ku, tel. +81 (0) 3 5448 9111.Tokyo's best hotels
Sadachiyo in Asakusa
There are no ninjas at the Sadachiyo but it feels like there should be. This repro-Edo era ryokan flits between the present (free WiFi) and centuries past with décor straight out of Japanese samurai drama central. A 2am curfew may rattle some but its kimono-clad management and choice of two onsen (hot bath) are delightfully rustic. So is the hand-pulled cart that sits outside this delightful property.
Sadachiyo: Asakusa 2-20-1, Taito-ku, tel. +81 (0)3 3842 6431.
Expensive
The Strings by Intercontinental Tokyo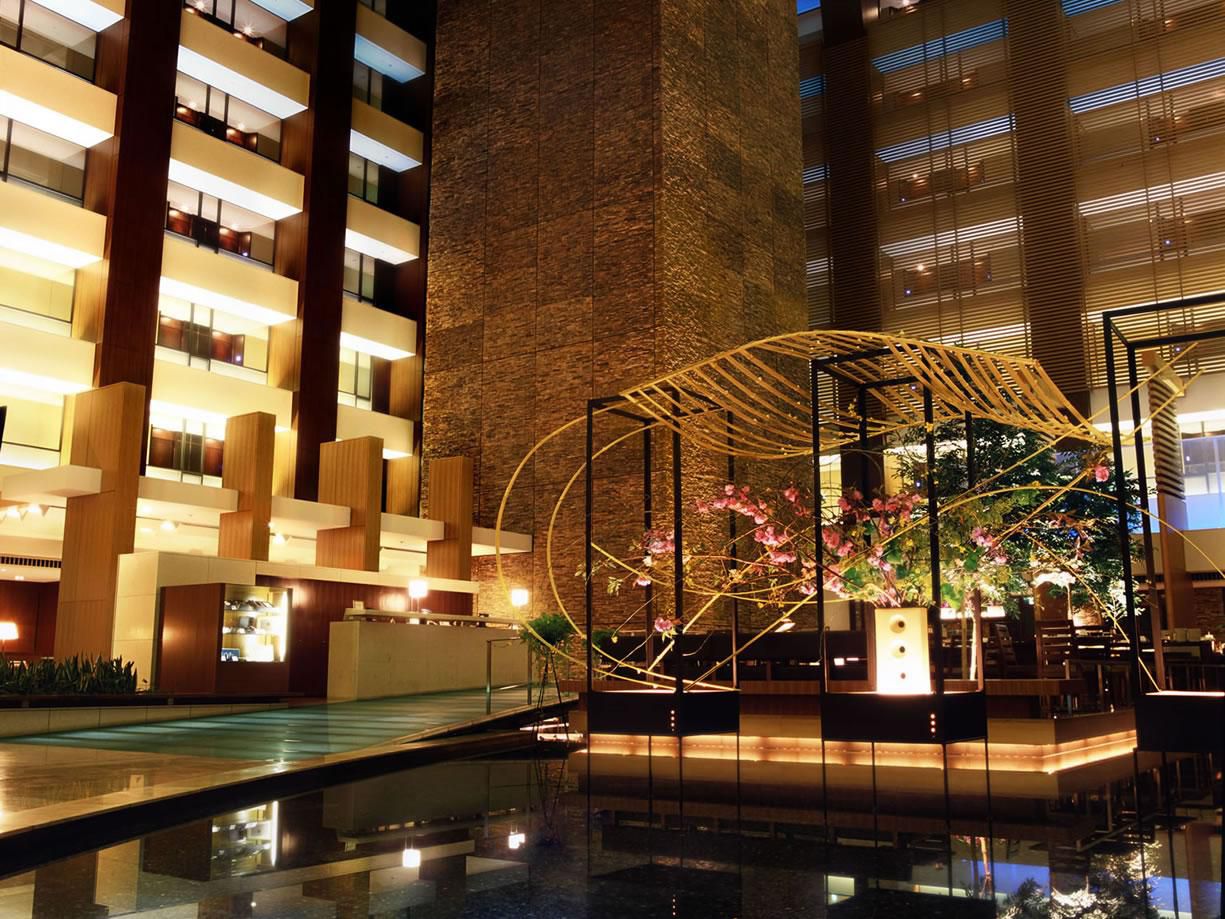 The 206-room Strings boasts one of the most strikingly designed hotel interiors in Japan. Its 26th floor reception leads into an arresting seven-story atrium. This towering area showcases spaciousness and light, both rare commodities in Tokyo. The Strings is popular with visiting business travelers for its location. Situated a minute from Shinagawa train station and the Shinkansen, Strings is ideal for quick getaways to the rest of the country.
The Strings by Intercontinental Tokyo: Shinagawa East One Tower, Konan 2-16-1, Minato-ku, tel. +81 (0) 3 4562 1150.Tokyo's best hotels
Cerulean Tower Tokyu Hotel
When priority is location, no hotel in Tokyo beats The Cerulean's spot in Shibuya. This bustling district's energy is intoxicating, a window on trends that will be exported around the world weeks, months and years from now. The Cerulean sits at this modern crossroads and despite its quirks -- like a serving of salad with the continental breakfast, and petite women lugging huge suitcases from door to room -- there's a reassuring buzz to the place.
Cerulean Tower Tokyu Hotel: Sakura-gaoka-cho 26-1, Shibuya-ku, tel. +81 (0) 3 3476 3000.
Conrad Tokyo Hotel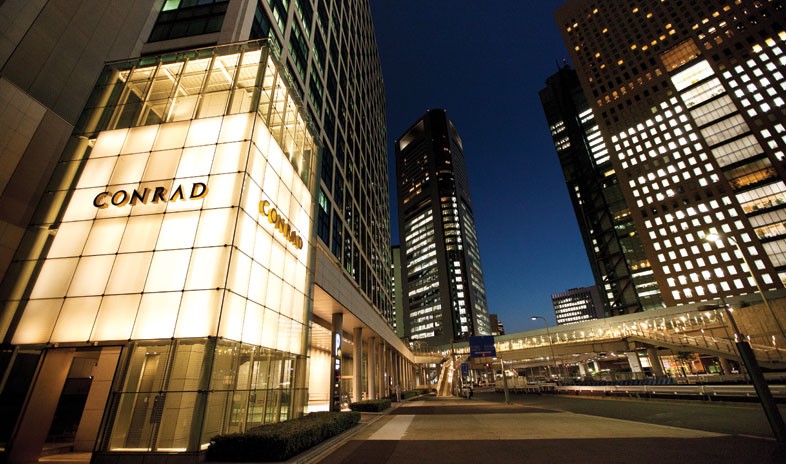 The first impression upon entering the Conrad Tokyo is how it cleverly blends a spectacular variety of modern and traditional art to create a gallery-like environment. Next: the stunning views overlooking Hamarikyu Garden, a former Royal residence and Tokyo Bay, with Rainbow Bridge in the distance. However, this all assumes that you found the hotel within its spot in Shiodome's labyrinthine non-signposted complex.
Conrad Tokyo Hotel: Higashi-Shinbashi 1-9-1, Minato-ku, tel. +81 (0) 3 6388 8000.Tokyo's best hotels
Hotel Nikko Tokyo
Tokyo is no looker compared to destination cities like New York and Sydney. So it may come as a surprise to find there is a harbour front. OK, it's not quite of the Hong Kong variety but the twinkly Rainbow Bridge and bay side buildings actually look rather pretty after dark. The best place to enjoy this vista is at the reclaimed 'futuristic' island of Odaiba. Popular with the bridge and tunnel set at weekends, the Nikko is equidistant from central Tokyo as it is to Tokyo Disney Resort. So don your big ears and check into the self-styled 'Tokyo Balcony.'
Hotel Nikko Tokyo: Daiba 1-9-1, Minato-ku, tel. +81 (0) 3 5500 5500.
Shangri-La Hotel, Tokyo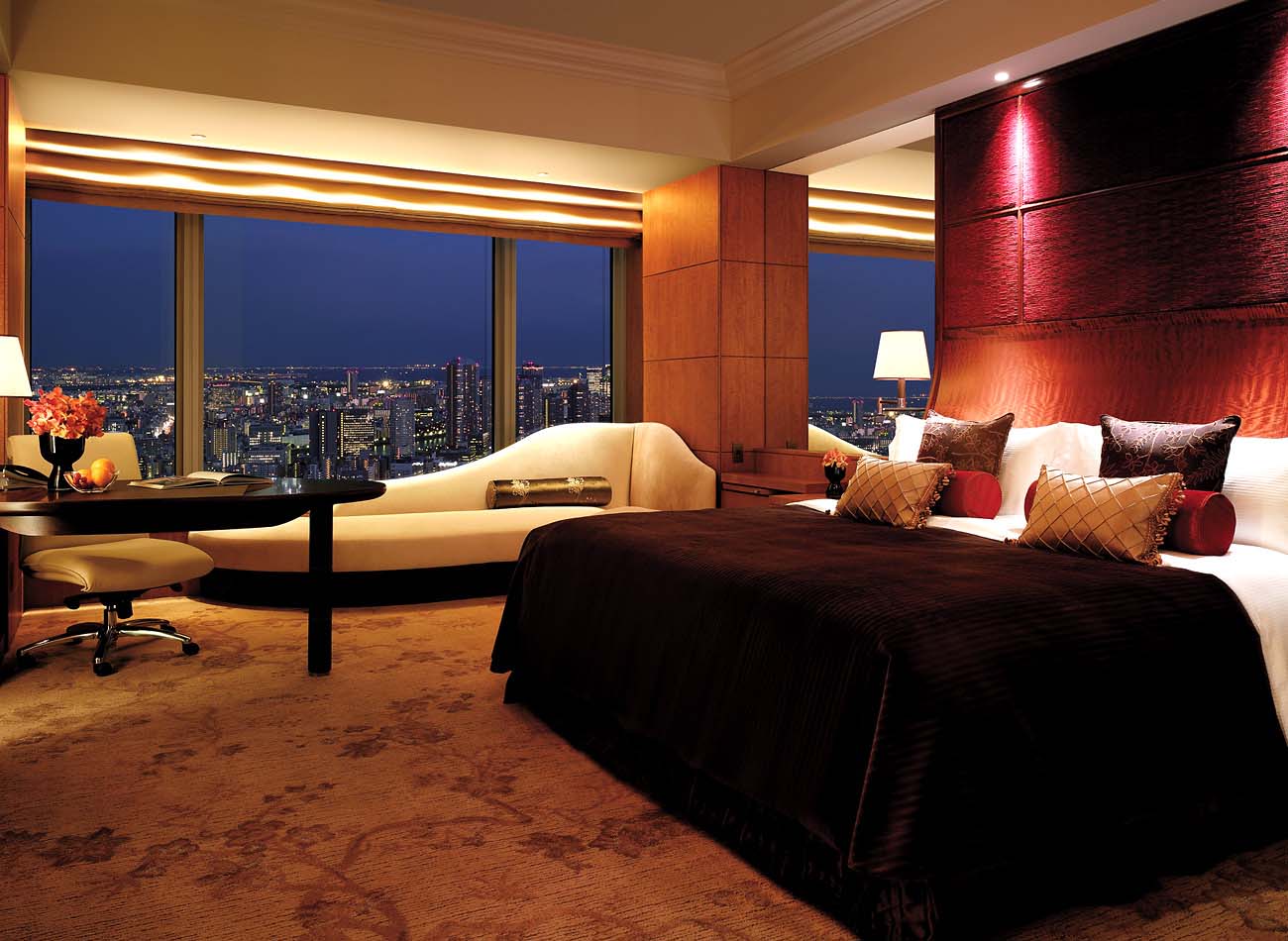 One of the first things you notice when entering the Shangri-La Hotel, Tokyo is its abundance of art. There are over 2,000 works on display. Located in prime real estate, adjacent to Tokyo Station in Marunouchi, this once slightly dull financial district has been redeveloped over the past decade into an international visitor-friendly shopping and dining hotspot.
For those seeking a respite from the plethora of nearby retail, the Shangri-la is also minutes from the Imperial Palace, and while us commoners cannot enter the royal sanctuary, we can take advantage of the accessible East Gardens and its greenery, literally a breath of fresh air in the Japanese metropolis. The Shangri-La's elevators are the poshest in town, featuring full-on chandeliers and black-mirrored ceilings.
Shangri-la Hotel, Tokyo: Marunouchi Trust Tower Main Building 27F-37F, Marunouchi 1-8-3, Chiyoda-ku, tel. +81 (0) 3 6739 7888.Tokyo's best hotels
Hotel New Otani's gardens
The New Otani's loyal clientele may be middle-aged, yet there's still a wee spring in their step, quite possibly a metaphor for the hotel itself. The interiors are a 1980s homage, and service is a throwback to when customer was king. Old-timers love its revolving restaurant and clearly remember the day when the James Bond movie "You Only Live Twice" (1967), filmed the hotel for the Japanese headquarters of Ernst Stavro Blofeld's organization, SPECTRE. The historical gardens are also unbeatable.
Hotel New Otani Tokyo: Kioi-Cho 4-1, Chiyoda-ku, tel. +81 (0) 3 3265 1111.
Grand Hyatt Tokyo
It's easy to understand why this property is the first choice for many visiting celebrities and VIPs. Situated in the heart of Roppongi Hills, the Grand Hyatt is minutes from the city's most foreigner-friendly restaurants and bars. "The planners of the Grand Hyatt didn't want the hotel to be categorized as generic, which frequently happens to larger hotels, so they hired a number of top design houses in Japan, names including Tony Chi and Super Potato," says luxury travel expert Derek Ong. Detractors claim one of its bars is a magnet for suspiciously eager women, and that window views are nearly non-existent, considering its price tag.
Grand Hyatt Tokyo: Roppongi 6-10-3, Minato-Ku, tel. +81 (0) 3 4333 1234.Tokyo's best hotels
The Ritz Carlton Tokyo in Tokyo Midtown
The Ritz Carlton, Tokyo
The Ritz Carlton occupies the top nine floors of Midtown Tower -- Tokyo's tallest building -- giving dramatic 360˚ vistas that include Tokyo Tower, and on a clear day, Mount Fuji. The lobby is branded with an artificial chocolate signature scent, which is not to everyone's tastes. However, rest assured taste buds will be satisfied at Michelin-starred Hinokizaka, a 200-year-old teahouse rebuilt on the hotel's 45th floor.
The Ritz Carlton, Tokyo: Akasaka 9-7-7, Minato-ku, tel. +81 (0) 3 6434 8009.
Park Hyatt Tokyo
Not many hotels can boast of immortalization in a Hollywood movie like the Park Hyatt Tokyo can thanks to Sofia Coppola's "Lost in Translation." "Many guests still remember some of the scenes down to the smallest details. People always ask to sit in the same barstool as Bill Murray at the acclaimed New York Grill," says Ong. Its not only foreigners who like that restaurant, however. It's still very much a local 'must-do,' remarkable in a city where trends come and go faster than bullet trains. The so-so location, on the outskirts of Shinjuku, is the Park Hyatt's only letdown. But if Mohammad can visit the mountain, so, metaphorically, can you. After all, that's what cabs are for.
Park Hyatt Tokyo: Nishi-Shinjuku 3-7-1-2, Shinjuku-ku, tel. +81 (0) 3 5322 1234.Tokyo's best hotels
Four Seasons Hotel Tokyo at Chinzan-so.
The Four Seasons Hotel Tokyo at Chinzan-so
Situated in a tranquil 17-acre garden that was established over a century ago by Japanese royalty as a meeting place for friends and family, the old-fashioned Chinzan-so really is the epitome of that oft-used cliché: "An oasis in the concrete jungle." The centerpiece of the traditional garden is a three-story, 1,000 year-old pagoda and a waterfall that has become the backdrop to numerous weddings that take place each weekend. Pleasure seekers should book one of the signature massage treatments at the hotel's Yu Spa although some may find Chinzan-so's location -- a 30 minute taxi ride from trendy shopping spots Aoyama and Omotesando -- bothersome.
The Four Seasons Hotel Tokyo at Chinzan-so: Sekiguchi 2-10-8, Bunkyo-ku, tel. +81 (0) 3 3943 2222.
Ridiculous
Hotel Seiyo Ginza
Kodawari or "attention to detail" is taken to new levels at the Seiyo. The management's predilection for recording a guest's every preference or dislike means returning guests who like fresh juice after their morning jog will have it waiting in their room when they return. Prefer Caesar salad without bacon? You need only request My Salad on a second visit and it will appear, sans the meat topping. In this regard, the cosy 77-room Seiyo is akin to an expensive private member's club.
Hotel Seiyo Ginza: Ginza 1-11-2, Chuo-ku, tel. +81 (0) 3 3535 1111.Tokyo's best hotels
Mandarin Oriental's posh bar.
Mandarin Oriental Tokyo
Opinion is rarely divided on this property. Beloved by guests and industry insiders alike, including those who work at the competition, the Mandarin brings a touch of class to a mainly gray, corporate neighborhood. The Mandarin's chic martini bar, eye-wateringly expensive for mere mortals not on expense accounts, is the swishest hotel bar in town.
Mandarin Oriental Tokyo: Nihonbashi Muromachi 2-1-1, Chuo-ku, tel. +81 (0) 03 3270 8800.
The Peninsula Tokyo
Located in the business district of Marunouchi and mere steps from the Imperial Palace outer gardens and Ginza's superb shopping, The Peninsula is perfectly positioned for both business and leisure travelers. The hotel's signature high standard of service is everywhere, and its ubiquitous vintage Rolls Royce, parked in front of The Peninsula's grand entrance, is a clue to the standards to expect inside. Less useful are the nail dryers installed in walk-in closets.
The Peninsula Tokyo: Yurakucho 1-8-1, Chiyoda-ku, tel. +81 (0) 3 6270 2888.
Imperial Hotel Tokyo
Founded in 1890 under the direction of the Imperial Palace, the hotel to this day retains a stately grandeur beloved by its kimono-clad guests who chase through the lobby on their way to afternoon tea. The surrounding expanse adds to the Imperial's heritage of being the oldest gal in town since no hotel newcomer to Tokyo is able build out as wide -- only upwards. Industry insiders like to take a pop at its busy lobby, likening it to a 'bus terminal at rush-hour.'
Imperial Hotel Tokyo: Uchisaiwai-cho 1-1-1, Chiyoda-ku, tel. +81 (3) 3504 1111.
Related posts:
You may also like:
The 26 Best Luxury Hotels in Tokyo
10 of the best boutique hotels in Tokyo