Best hotels in Rome, Italy
10 of the best boutique hotels in Rome
Rome-based writer Amanda Ruggeri seeks out the newest boutique hotels in the capital – a treasure trove of converted 16th-century palazzos and quirky design hotels
Babuino 181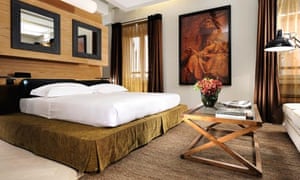 Babuino 181 Photograph: Giovanni Rinaldi Giovanni Rinaldi/PR
Babuino 181 opened last year, the third addition to the boutique hotel collection that also claims Mario de' Fiori 37 and Margutta 54. It's the latest show of the collection's prowess in repurposing historical buildings for modern luxury. In this 19th-century palazzo, all the amenities of contemporary living are at your fingertips, from iPod dock to flat-screen television, Nespresso machine to touchpad-controlled lighting. Decor is contemporary and clean-lined, but with elegant Italian details, from fresh flowers to marble-and-mosaic bathrooms. Then there's the space: rooms start at 26 square metres, beds are king-sized, and wardrobes are walk-in. But there's also old-school romance on the hotel's rooftop terrace, where you can look past boxes of flowers to the view of the Spanish Steps neighbourhood.
• Via del Babuino 181, +39 063 229 5295, romeluxurysuites.com/babuino, doubles from €207
Suite Sistina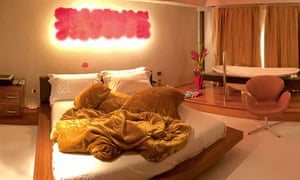 The Suite Sistina is, quite simply, sexy. Tucked behind a deliberately-easy-to-miss door on the Via Sistina, next to the Spanish Steps but still off the beaten tourist track, Suite Sistina's exterior is inconspicuousness, to say the least. Inside, it's anything but. Each of the nine rooms differs, but all exemplify romance with a modern edge. Look out for things like silk sheets, Lush toiletries, and bathtubs positioned in the bedrooms. Soft, creative light displays and Bang & Olufsen stereos set the mood, and beds are either round … or no less than four square metres. An (all-organic) breakfast in bed is, of course, included in the price.
• Via Sistina 53, +39 062 036 8380, suitesistina.com, doubles from €170
Kolbe Hotel Rome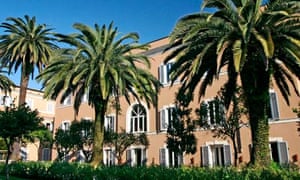 The address at this 15th-century convent-turned-hotel is one of Rome's most coveted: on the "other," southern side of the Roman Forum, the neighbourhood is tucked next to Palatine Hill and the Circus Maximus, making it central, fascinating, and all but unknown to tourists. (Don't miss the Circus Maximus farmers' market next door, or the nearby magnificent and oft-ignored ancient gems, like the 4th-century Arch of Janus or the 7th-century church of San Giorgio al Velabro). The hotel, opened three years ago, boasts 72 sleek, modern rooms, each with unusual textures and details like mosaic tiles and red Venetian marble. Many of the rooms have a view of the hotel's lovely, large garden, filled with orange, olive and palm trees.
• Via di San Teodoro 44, +39 066 798866, kolbehotelrome.com, doubles from €180 B&B. Book for three nights or more for a 20% discount (€144) in low season
Gigli d'Oro Suites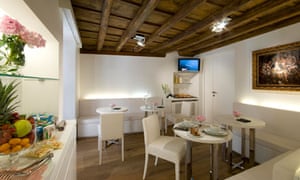 In this year-old hotel, super-new collides with super-old. At times jarring, the combination also couldn't be any more appropriate for Rome. This 15th-century palazzo, located on a quiet side street close to Piazza Navona, has been completely redone to host six luxury suites. Well, almost completely. The building's original wood-beamed ceilings were left intact, remaining a feature of each room; some suites boast antique fireplaces and period flooring. But the sparkling-white furnishings are all new, as are (importantly!) the bathrooms, complete with multisensory showers with hydromassage.
• Via dei Gigli d'Oro 12, +39 066 880 3579, giglidorosuite.com, doubles from €213
Related posts:
Villa Laetitia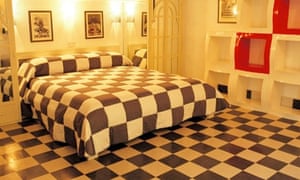 Few boutique hotels exude the exclusivity of the Villa Laetitia … and even fewer at this price. Located just across the river from Rome's Villa Borghese and the swank Parioli district, the art nouveau-style villa, built in 1911 by Armando Brasini, was transformed by fashion scion Anna Fendi Venturini in 2006. The reception alone, in the main house, must be one of Rome's most stunning, complete with crystal chandeliers, full-length mirrors, and detailed plaster reliefs. While eclectic, the guesthouse's 15 mini-apartments are no less luxurious. Each is decked out in designer signatures, including a rare Picasso foulard (scarf), 1930s Mies van der Rohe sofa bed, and original sketches by Chanel and Dior. For that homely touch, most rooms have their own private terrace or garden and all have kitchenettes.
• Lungotevere delle Armi 22/23, +39 063 226776, villalaetitia.com, doubles from €230
Leon's Place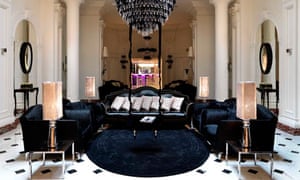 First a 19th-century palazzo, then a discoteca, this building in the centro storico's well-connected north-eastern corner (a 10-minute walk from Termini) has met its newest incarnation as a hotel. And not just any hotel. The lobby alone – huge, marble and punctuated by frivolities like the black velvet swing hanging from a crystal chandelier, or chairs decked out with black feathers – makes you feel like you've just stepped out of Rome and into Chelsea. The 56 rooms are slightly more understated, but with modern touches like floor-to-ceiling mirrors and black-lacquered furniture. Don't miss the bar downstairs, which glitters like a disco ball and features eel-skin seats. The genius of the hotel? Somehow, it all feels quirky, not corny.
• Via XX Settembre 90/94, +39 068 90871, leonsplace.net, doubles from €200
Intown Luxury House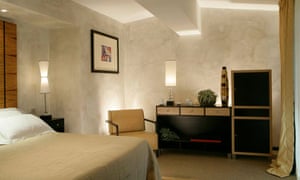 Each of the rooms in this Spanish Steps-area hotel is a space of modern, and minimalist, solace. Sharp, contemporary suites, with clean lines and dark wenge wood, are antidotes to the anything-but-geometric city outside. The beige, cream and dark-brown colour scheme relaxes; so does the unerring hospitality of the staff, always ready with a coffee or word of advice. The hookup to Wi-Fi is included in the price, as is breakfast in bed – and if you want to up your relaxation with a spa treatment, the Intown Luxury House offers discounts for treatments at the nearby, and much bigger, Hotel de Russie.
• Via Bocca di Leone 7, +39 066 9380200, intownluxuryhouse.com, doubles from €189 B&B
St George Roma Hotel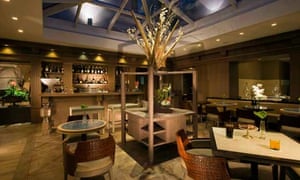 St George Roma Hotel Photograph: Moreno Maggi Moreno Maggi/PR
Located on the 500-year-old Via Giulia – one of the most central and atmospheric, yet least touristy, areas of Rome – the building was originally designed by Bramante, the head architect of St Peter's Basilica, in 1508. In 2007, it reopened as one of Rome's chicest hotels. From the open-plan lobby to the dedicated cigar lounge, every detail's meant to soothe. Sip a glass of wine at the rooftop bar as you listen to the bells of the neighbouring 17th-century churches, relax with a massage or Turkish bath in the hotel spa, or simply curl up in one of the 64 contemporary, fully-soundproofed rooms. Each features travertine stone and a calming colour palette.
• Via Giulia 62, +39 066 86611, stgeorgehotel.it, doubles from €300 (€255 if booked a week ahead)
Hotel Ripa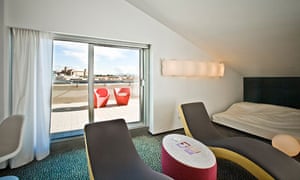 While showing some signs of age, the family-owned Hotel Ripa remains one of Rome's more unique offerings: a design hotel that's as practical as it is quirky. The 170 rooms feature unusual lighting fixtures and details that are both thoughtful and funky, like comfy, mod lounge chairs where you can toss a suitcase as easily as stretch out, or a bathtub cunningly separated from the bedroom by a curtain alone. The playful, futuristic style is surprisingly soothing, and the space is especially rare for Rome: even the cheapest "Essential" rooms boast 28 square metres, and most have a private balcony. The one potential downside is the location. On the southern, quieter side of Trastevere, it's surrounded by modern buildings and doesn't feel like it's in the heart of much. But for this price, it's worth the cost of a bus or taxi.
• Via degli Orti di Trastevere 3, +39 065 8611, ripahotel.com, doubles from €100 B&B
Donna Camilla Savelli Hotel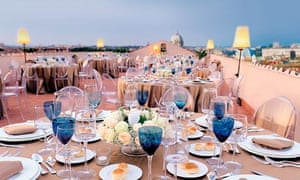 Famed architect Borromini built this convent on the lush Janiculum hill in 1642. Three years ago, the architectural gem was turned into a hotel – but one true to both the spirit and details of its past. History hides in every corner, from 17th-century oil paintings to antique wooden doors. The 78 rooms, once the nuns' cells, are all traditional elegance, featuring original wooden ceilings, antique furniture and period prints. The stunning and secluded cloister is now a garden for guests to take their breakfast or relax, and the old refectory, today a space for meals or meetings, retains its Renaissance paintings and 18th-century woodwork. Despite the location's complete tranquillity, a five-minute walk puts you in the heart of lively, lovely Trastevere.
• Via Garibaldi 27, hotelsavelli.com, +39 065 88861, doubles from €200 B&B
See more hotels:
The 10 Best Rome Hotels on TripAdvisor
The 10 Best Hotels in Rome, Italy
Best Hotels in Rome
30 Best Cheap Hotels in Rome
10 of the best budget hotels in Rome
Rome's Best Budget Accommodation: Five Places to Stay for Under €80 a Night