Best guides and tips for travelling to Son Doong Cave, Vietnam
Information
Source:
http://oxalis.com.vn/cave/son-doong-cave/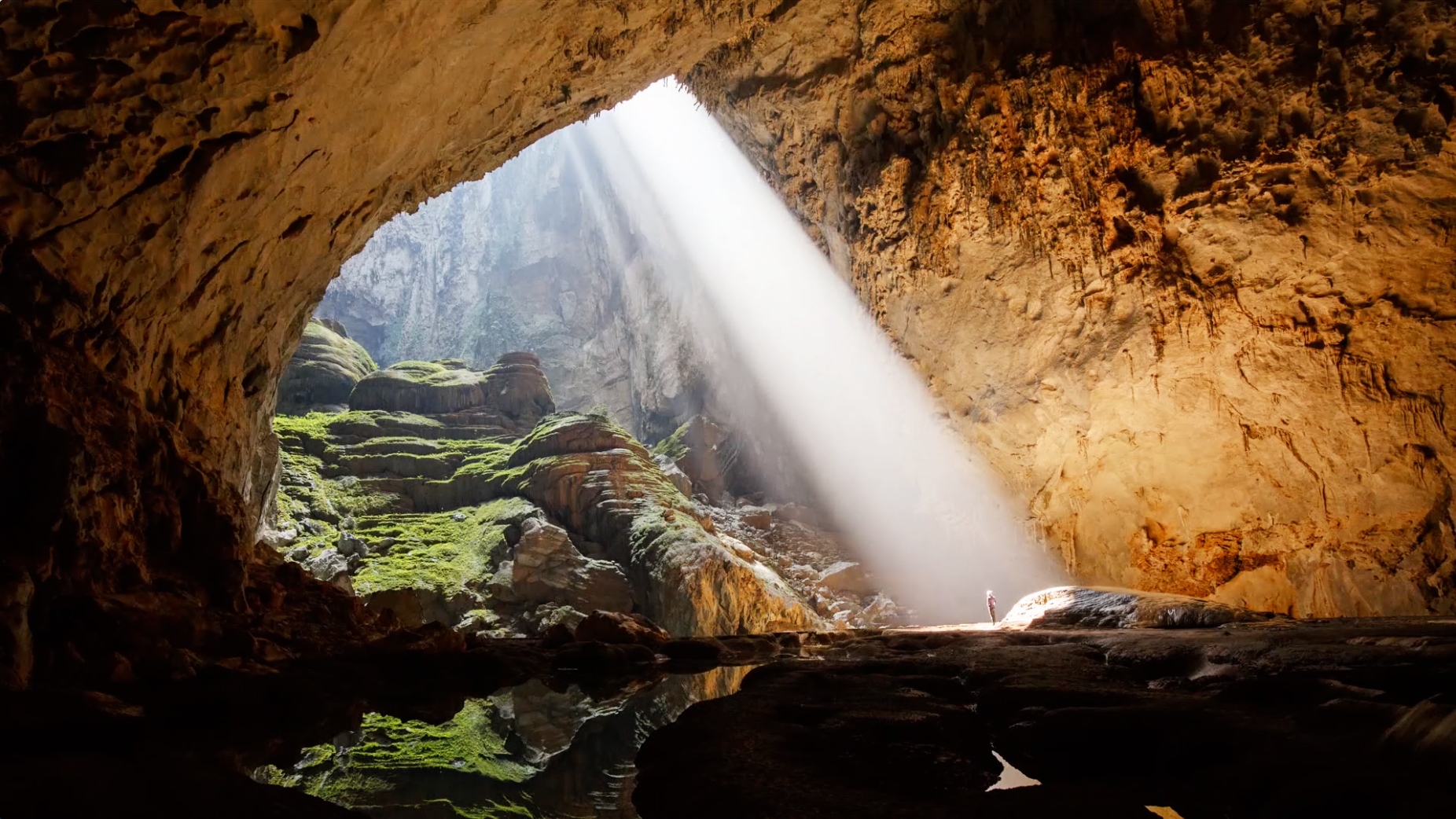 Son Doong Cave is in the heart of the Phong Nha Ke Bang National Park in the Quang Binh province of Central Vietnam. Only recently explored in 2009-2010 by the British Cave Research Association, the cave has only been open to the public since 2013.
Less people have seen the inside of Hang Son Doong than have stood on the summit of Mount Everest. Join us on this otherworldly expedition and become one of the lucky few who have had the life changing experience of exploring the world's largest cave.
Imagine trekking straight into the depths of the world's largest cave on an expedition unlike any other. A cave so massive that a 747 could fly through its largest cavern. A space so mesmerising that it forces you to question whether you are still on this planet at all. Foreign landscapes found nowhere else, enormous stalagmites rising from the ground and statuesque stalactites hanging from the ceiling like an alien species. Jungles emerge from inside the cave itself, a scene so surreal that you have to see it to believe it. Misty clouds envelop the whole scene, a result of the cave's own localised weather system. Passages adorned with ancient fossils offer evidence of the millions of years that have passed on this Earth.
As you approach the jungle just outside the entrance, the rush of cool wind that cascades out brings to life everything inside of you. Hazy, cold and exhilarating, it is apparent that there's something magical waiting just beyond the opening to the cave.
HOW WAS SON DOONG CAVE FIRST DISCOVERED?
From an early age, local man Ho Khanh used to spend weeks on end trekking and maneuvering his way through the jungles of the Phong Nha-Ke Bang National Park, searching for food and timber to earn a modest income.
In 1990 while out on a hunting mission, Ho Khanh stumbled across an opening in a limestone cliff and moved forward to investigate. As he approached he noticed clouds billowing out of the entrance, and could hear the sounds of a river raging from somewhere inside the cave.
When he could feel a strong wind also blowing out from the cave, he decided to move on without further inspection. By the time he had returned to his home a few days later, he had forgotten its exact location and thought no more of it.
At the same time two members of the British Cave Research Association (BCRA), Howard and Deb Limbert, were basing themselves in Phong Nha to conduct exploratory cave expeditions in the area. While chatting with Ho Khanh one day, he mentioned to the caving experts that he had found a cave with clouds and a river inside. Howard and Deb were intrigued and urged Ho Khanh to try and rediscover the cave. After many failed attempts, they began to think this elusive cavern might remain lost in the jungle forever more.
In 2008 while out on another food gathering trip, Ho Khanh found the mysterious opening again and studiously took note of the path on how to get there. In 2009 he led Howard, Deb and a team of professionals back to the cave for the first expedition to enter what would later become known as Hang Son Doong, or 'Mountain River Cave'.
GEOLOGY OF SON DOONG CAVE
The Phong Nha-Ke Bang National Park in Vietnam contains the oldest karst system in Asia, between 400-450 million years old. Hang Son Doong itself is relatively young, with the analysis of sediment dating it to be only 3 million years old.
Formed on the edge of a fault zone, Hang Son Doong has been carved out by the mighty Rao Thuong River as it erodes away the limestone, forming the enormous tunnel beneath the Annamite Mountains. Giant sinkholes, known as dolines, have collapsed sometime up to 300'000 years ago, creating massive openings to the outside world. Cave pearls the size of baseballs have been formed by water dropping from the ceiling.
HOW BIG IS SON DOONG CAVE?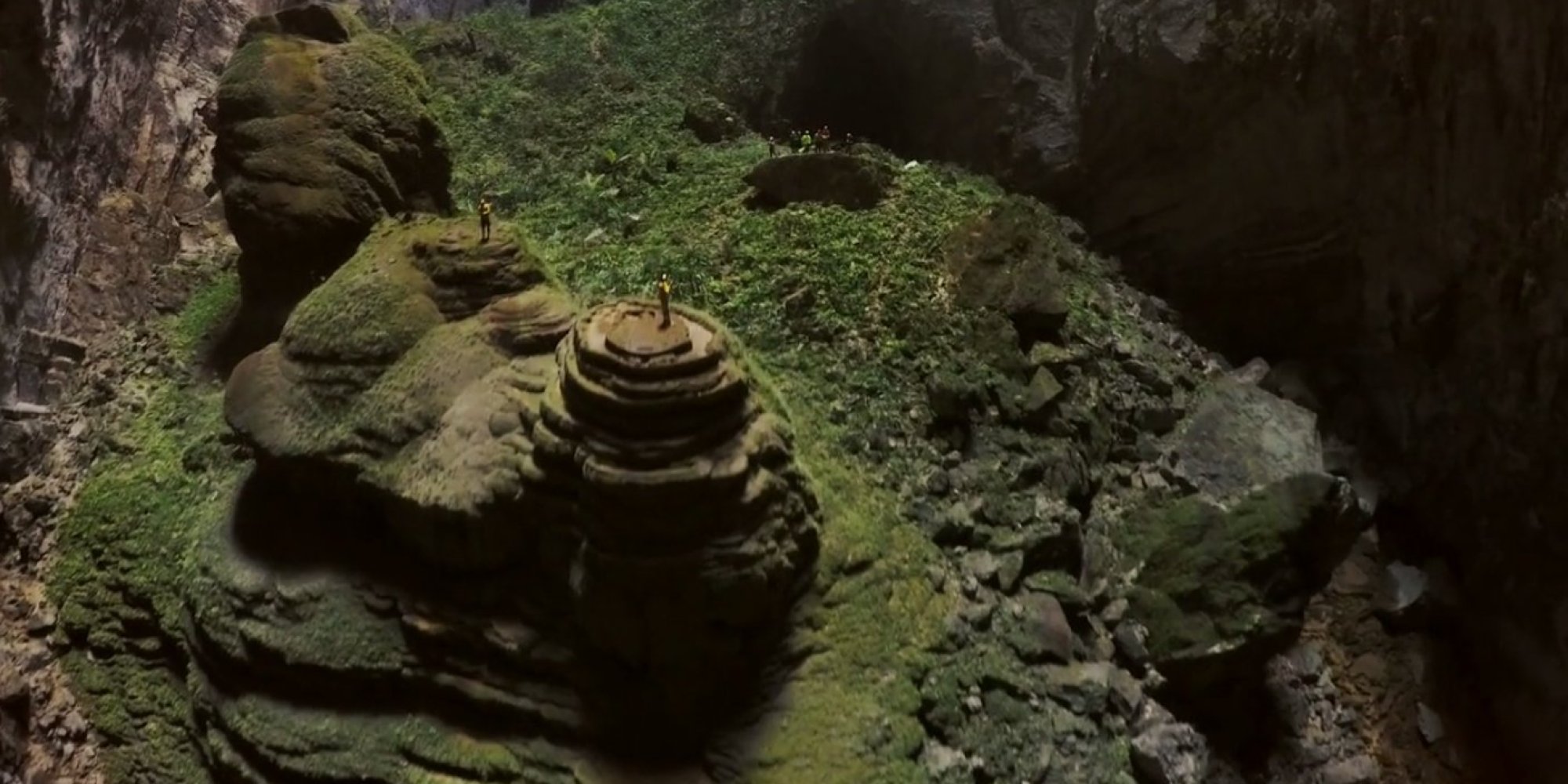 The first expedition had been halted by an 80m high calcite barrier, which was jokingly dubbed the 'Great Wall Of Vietnam'. It wasn't until their second expedition in 2010, when the Great Wall was finally climbed and the end of the passage was found, that Hang Son Doong was determined to be the largest cave in the world.
At over 5km long, with sections reaching up to 200m tall and 150m wide, Hang Son Doong is large enough to house an entire New York City block, complete with 40 story skyscrapers. With a total measured volume of 38.5 million cubic metres, this comfortably surpasses Deer Cave in Malaysia, which was considered to be the previous record holder. Stalagmites up to 80m high have also been surveyed, the tallest every encountered.
BAN DOONG ETHNIC VILLAGE
To reach Hang Son Doong, adventurers must first pass through the Ban Doong ethnic minority village. The only village located inside the Phong Nha-Ke Bang National Park, less than 40 people makes up the population of Ban Doong.
Life is tough for the minority people here, due to their isolation from the outside world. Access is only possible by foot, and the dense jungles surrounding Ban Doong prohibit the cultivation of most crops. The discovery of Hang Son Doong and the subsequent expeditions that now pass through the village have seen new opportunities arise for the community, who now can earn extra income by working closely with Oxalis to protect the conservation of the area.
For many people, being able to visit Ban Doong and meet its welcoming villagers becomes a highlight of their trip. Ban Doong offers a view of way of life that has been unchanged for centuries.
See more:
http://oxalis.com.vn/cave/son-doong-cave/
Son DOONG Cave Travel guides - Tips and tricks
How to get to Son Doong?
Source:
http://www.sondoongcavevietnam.net/2015/05/how-to-get-to-son-doong.html
After an appearance on Good Morning America, more than ever, Son Doong become a hot name in the tourist map of the youth. Though only footage portrayed ... one part of Son Doong looks special magnificent, but has made the hearts of young people "arrhythmia", and question each transmission is highest after the program aired is: "How to go Son Doong is that?".
Currently, only a licensed tour companies tourism in Son Doong and the company itself is also very limited number of visitors. In 2014, only about 500 passengers has had and discover Son Doong, and from early 2015 until now, that number stood at about 200 people. There are many rumors of tour prices Son Doong, as well as about Son Doong was sealed book tour till ... 2 years later. And this article will help you visualize what you most clearly have to do to get a foothold in the great wonders of this nature, as well as whether or not to wait more than two years away from an opportunity to implementation of that desire.
1. Must have very good stamina
To be able to participate 7 day 6 night trip to discover Son Doong, you need to have an extremely good fitness. It was not a fun trip for you to visit and enjoy, it is a journey to discover, to explore. During the journey, you will have to walk more than 50 kilometers through jungle, with roads difficult, climbing over large boulders in the cave filled with small, or even mountainous terrain. According to the company's share Oxalis tourism - the only company in exploitation tours Son Doong, the hotel has been instances of tours and removed from the first day because not tolerate long-winded journey of Son Doong.
2. You must have experience in trekking and adventure tourism
This will be good for yourself, because there will be no clean toilet waiting for you, no hot water and bath with fragrant soaps, such as the smooth soft beds await you after a day walking, climbing as both legs apart. You will sleep in tents, will bathe and defecate in the chamber "riot" was prepared from travel companies. You will participate in a journey absence nearest amenities and wildlife. Therefore, the knowledge and experience of trekking and adventure tourism will help you adapt to this somewhat long trip.
3. You must have ... more 60 million
You must have also heard the price "gouging" the Son Doong tours, right? $ 3,000, equivalent to 64.5 million VND will be the amount you pay for 7 days 6 nights in Son Doong. Includes meals during the trip, 1 night at the hotel upon arrival and 1 night stay in Dong Hoi resort before returning. You will be provided with camping gear such as tents, sleeping mat and sleeping bag, and personal protective equipment such as helmets, lights, gloves tay..vv .., as well as the participation of two experts from cave England. This cost does not include airfare travel, so you also need to move the additional cost from where you live.
4. You must make a reservation and wait
There is no story tours Son Doong was fully booked until 2016, in 2018 as each transmission netizens. Actually, Oxalis revealed, new tours Son Doong closed until ... the end of this year alone. Companies are currently not sure that they have continued to exploit Son Doong tour next year or not, because they need to assess the specific and detailed the effects of these trips to the environment. If this effect is too large and may affect the ecosystem in caves, mining companies will stop to maintain the pristine to the Son Doong.5. Taking Son Doong when?
Best time to go is from February Son Doong until December 8. From February to April, the weather in Son Doong will be very cool, perfect for exploring the cave but a bit cold at night. From May to August is hot and humid months, so the more you have to prepare a good health to prevent the loss of energy, fever sick because wet weather in the cave.
6. Going to the toilet or bathing will ... What?
Of course in such a pristine cave Son Doong, there would be no toilet glitter, fragrant for you already. No such thing as "rushed into the bushes" to "resolve". Tourism companies will build toilets "field" every stop camping. Whenever going to the toilet, you will use dry sand (also previously provided) to cover the waste. Dry sand is responsible for keeping the surroundings clean and deodorize help you.
And in that bathroom, be prepared to bring a wet paper to wipe away coz people are not always where you are bathing. There will only be a few points in the journey with the conditions allow you to be temporary.
Son Doong Cave guide
Source:
http://www.cavingsondoong.com/p/son-doong-cave-guide.html
Son Doong cave (Vietnamese: Hang Son Doong) is world's largest cave, located in Son Trach, Bo Trach District, Quang Binh province, Vietnam. It is found by a local man named Ho Khanh in 1991 and was recently discovered in 2009 by British cavers, led by Howard Limbert. The name "Son Doong" cave means "mountain river cave", It was created 2-5 million years ago by river water eroding away the limestone underneath the mountain Where the limestone was weak, the ceiling collapsed creating huge skylights.
Son Doong cave is more than 200 meters wide, 150 meters high, and approx 9 kilometers long, with caverns big enough to fit an entire city street inside them, twice as large as Deer Cave in Malaysia (currently considered the world's largest with 90 meters wide, 100 meters high and 2 kilometers long). Son Doong cave was classified as the largest cave in the world by BCRA (British Cave Research Association) and selected as one of the most beautiful in the globe by the BBC news.
Son Doong cave is hidden in rugged Phong Nha-Ke Bang National Park in Quang Binh province near the border with Laos, the cave is part of a network of 150 or so caves, many still not surveyed, in the Annamite Mountains. It is very difficult to travers. During the first expedition, the team explored two and a half miles of Son Doong cave before a 200-foot wall of muddy calcite stopped them. They named it the Great Wall of Vietnam. Above it they could make out an open space and traces of light, but they had no idea what lay on the other side. A year later, they have returned—seven hard-core British cavers, a few scientists, and a crew of porters – to climb the wall, if they can, measure the passage, and push on, if possible, all the way to the end of the cave…
Son Doong Cave – Map
After Son Doong cave exploring trip, in the presence of scientists DHKH School of Natural landforms (Prof. Dr. Vu Van Phai, Dr. Nguyen Hieu), the American Cave (Dr. Darryl R.), biologists from Newzeland (TS. Annete B.) and the Institute of Geography, Institute of Science and Technology of Vietnam (Nguyen Huu Tu CVC., MA. Vu Anh Tai), cave explorers (Howard L., Deb L., Paul I ., Robine GS, Jonathan S., Howard C.) filmmakers (Chairman James K., Patrick K. director, Simon R. cameraman, assistant cameraman Dan E., Paul R. audio) and journalists (writers Mark D., Carsten P. photography, photography assistant, Robert S.) of TV channels and magazines, National Geographic (NG). Along with the participation and assistance of 23 local people including Mr. Ho Paul – who discovered the cave paint line, officials of the national park of Phong Nha – Ke Bang (Mr.Hien), Immigration Department Quang Binh (Mr. Ocean) and the Ministry of Culture, Sport and Tourism (Mr.Long). Son Doong cave Map is outlined by Dr.Nguyễn Hiệu:
Width : > 200 meters
Height : 150 meters
(The largest chamber of the cave is judged to be 250 meters in height)
Length : approx 9 kilometers
Getting there & away
Son Doong cave is hidden in rugged Phong Nha-Ke Bang National Park in Quang Binh province near the border with Laos. It takes explorers 6 hours of walking through a 10 kilometer long forest path from Truong Son Highway to reach the mouth of Son Dong cave.
The nearest town is Dong Hoi which is 65km away (55km driving & 10km trekking).
To get to Dong Hoi you can travel by air, car, train from either two big tourist hubs Hanoi & HoChiMinh City, or from smaller hubs Hue and Hoian
Air
Dong Hoi Airport is located 6km north of town. There are daily flights from/to Dong Hoi
Hanoi – Dong Hoi: 06:10 – 07:40
Dong Hoi – Hanoi: 08:20 – 10:00
HCMC – Dong Hoi: 10:00 – 11:35
Dong Hoi – HCMC: 12:25 – 14:00
Bus
There are daily open-tour buses from both Hanoi & HCM running through Dong Hoi Town
Buses to all destinations zip up and down Hwy 1A, including open-tour buses between Hanoi and Hué. It's easy to leave an open tour bus in Dong Hoi, but more difficult to arrange to be picked up from here.
From the bus station on Tran Hung Dao street you can catch services south to Danang (5 hrs, 6 daily) via Dong Ha (2 hrs), and north to Vinh (4 hrs).
It's possible to get a bus to the busy Lao border at Lao Bao (3 daily) and directly to the Lao city of Muang Kham­mouan (11 hrs, twice weekly) passing through the little used Cha Lo/Na Phao border crossing (7am-5pm) situated between Don Bai Dinh (Vietnam) and Na Phao (Laos). The buses leave from Dong Hoi at 6am on Mondays and Fridays, with the return journey leaving from Muang Khammouan at 7am on Wednesdays and Sundays. It is not possible to arrange a Lao visa at this border.
Car & motorbike
Dong Hoi is on Hwy 1A, 166 km north of Hue, 95 km north of Dong Ha and 197 km south of Vinh.
You can hire a car or rent a bike from any travel agent in Hanoi, HCMC, Danang or Hue
Train
The train station is located 3km from Hwy 1A. Take Tran Hung Dao street until it crosses a bridge. A signpost directs you to take the next right, then take another right and then the station is directly ahead.
The Reunification Express heads to destinations that include Hanoi (9 – 12 hrs, 6 daily), Vinh (3½ to 9½ hrs, eight daily), and Hue (2½ to 5½ hrs, 8 daily).
The best time for caving Son Doong
The coast area of Quang Binh has tropical climate and is divided into two distinguished seasons. The dry season (from March to August) has a maximum temperature of 40o C and the colder, rainy season (August to January) has temperatures that can go down to 19o C. In higher areas (on mountains, highlands) the temperature is generally cooler.
From March to August will be the best time to explore Son Doong Cave, especially between March and April when the temperature is more pleasant, though rainfalls are still likely. During the rainy season, between September and January rain is more frequent and can be heavy.
Hotels near Son Doong cave
Dong Hoi Hotel (2-star)
Located in the center of Dong Hoi city, It's nearby Nhat Le Beach, railway station, bus station, just 5 minute go to by car and just 5 minute walk to the market, super market, with safe and large parking. The hotel has 40 well-equipped guestrooms, the restaurant seats 500 people. Room rate from $15 to $25
Add: 50 Quang Trung St., Dong Hoi City, Quang Binh Province, Vietnam
Tel: (84-52) 822289; Fax: (84-52) 828117
Huu Nghi Hotel (2-star)
Located in the center of Dong Hoi city, It's nearby Nhat Le Beach, railway station, bus station, just 5 minute go to by car and just 5 minute walk to the market, super market, with safe and large parking. The hotel has 40 well-equipped guestrooms, the restaurant seats 500 people. Room rate from $15 to $25
Add: 22 Quach Xuan Ky road, Dong Hoi town, Quang Binh province, Vietnam
Tel: (84-52) 822567; Fax: (84-52) 822463
Nam Long Hotel (2-star)
By the Nhat Le river, 0.6 km from Nhat Le beach, 0.7 km from Central Postoffice, 2.5 km from Railway Station, 100 m from Highway No 1. Nam Long Hotel includes 10 standard rooms from 15 to 20 m2, 8-10 USD/ night with hot water, cable TV, free wifi internet, air conditioner.
Add: 22 Ho Xuan Huong st – Dong Hoi city- Quang Binh Province, Vietnam
Tel: (84-52) 821851; Fax: (84-52) 829774
Cosevco Nhat Le (3-star)
The first three star hotel in Quang Binh province having the service of hotel, restaurant, tour operators…We'd like Cosevco Nhat Le to become a familliar address of yours when coming to Quang Binh
Add: 16 Quach Xuan Ky road, Dong Hoi town, Quang Binh province, Vietnam
Tel: (84-52) 840 088; Fax: (84-52) 822 180
Saigon Quang Binh Hotel (4-star)
Saigon Quang Binh Hotel is a newest 4 star international hotel with 95 luxurious guest rooms, facilities and services that meet to the requirement of both leisure and business travelers. Room rate from $50 to $110
Add: 20 Quach Xuan Ky St, Dong Hoi city, Quang Binh province, Vietnam
Tel: (84-52) 822276; Fax: (84-52) 822404
Sun Spa Resort (5-star)
Sun Spa Resort is set in the picturesque Central Vietnam city of Dong Hoi, some 150 kilometers to the North of Imperial city of Hue and on the banks of the legendary of Nhat Le River. Room rates from $75 to $180.
Add: My Canh, Bao Ninh, Dong Hoi, Quang Binh province, Vietnam
Tel: (84-52) 842999; Fax: (84-52) 842555
See more here:
30 Best Hotels near Son Doong Cave, Dong Hoi from TripAdvisor
http://www.tripadvisor.com/HotelsNear-g659924-d4079347-Son_Doong_Cave-Dong_Hoi_Quang_Binh_Province.html
HOTELS NEAR SON DOONG CAVE from Travelocity
http://www.travelocity.com/Son-Doong-Cave-Hotels.0-l6275992-0.Travel-Guide-Filter-Hotels
HOTELS NEAR SON DOONG CAVE from Expedia
http://www.expedia.com.vn/Son-Doong-Cave-Hotels.0-l6275992-0.Huong-dan-du-lich-Loc-Khach-san?rfrr=Redirect.From.www.expedia.com%2525252FSon-Doong-Cave-Hotels.0-l6275992-0.Travel-Guide-Filter-Hotels
Eating
Dong Hoi is a bit lacklustre on the food front. Numerous interchangeable restaurants serve up com, which literally means rice, but implies a meal of meat, soup and vegetables centred around a big bowl of the white fluffy stuff.
Here more than elsewhere, a foreigner ordering 'chicken and rice' may find themselves surrounded by more bowls of food than they can possibly eat and then being charged a hefty sum, so be wary.
Locals point us to one place that stands out from the pack in terms of price and quality: Binh Van, on Highway 1. It's about a kilometre south of Cua Dai (Long Bridge) but worth seeking out. It's run by a couple and their children: the wife, Van, is the head chef, she's always full of smiles, and her husband, Binh, is the resident host, and he's usually…well, full of rice wine. The meals here were absolutely soul-satisfying. Little English is spoken, so bring a phrase book.
Pickings are slim on the western food front as well. Right near the Quang Binh gate is Cafe QB (which stands for Quang Binh, of course) and across the street is another incarnation, QB Teen. It's run by a friendly staff of young gals, and serves a small but eclectic selection of freshly made dishes of foreign origin: hotdogs, pizza, roasted and fried chicken, along with (for some reason) excellent Korean kim chi. Sushi is also sometimes available.
If you head to the market, there are several cafes that have vendors out front selling sandwiches made from Chinese-style roast pork and cucumber–cheap and delicious.
Binh Van Restaurant: Highway 1, 1 km South of Cau Dai, Dong Hoi. T: (052) 825 596, (0915) 017 559; F: (052) 825 596.
Cafe QB and QB Teen: 03 Le Loi, Dong Hoi. T: (052) 824 694. Hours: 07:00 to 22:30.
Caving trips
The best trip is 3-day-tour departure from Dong Hoi with 2 nights camping in En Cave (2hr walking from Son Doong Cave) and around 6-7hr exploring inside Son Doong Cave. It is possible to explore only a part of the cave with support from local support team including local guide, porter and forest rangers.
2-day-tour can also be arranged with 1 night camping and only 3hrs exploring inside Son Doong Cave.
For detailed itineraries please view our tour section
What gears you should bring
Though the local support team can walk or jump easily on rocks inside the cave and need no caving gears that does not mean you can do the same as they do. Bring with you basic caving gears like helmet, booths, head lamp,…anything you would need for a serious caving adventure.
You are expected to encounter some water inside the cave thus it is wise to packed your belongings in waterproof backpack.
The camping is equipped with tent & sleeping bag and will be upgraded with air mattress soon.
Leaches could be the biggest nature obstacle as you trek through jungle and at the campsite thus anti-insect repellent is a must-have.
See more:
http://www.sondoong-cave.com/son-doong-travelogue/things-needed-for-caving-son-doong-vietnam.html
10 most popular questions about Son Doong Cave
Source:
http://www.alotrip.com/vietnam-news-travel-blog/10-most-popular-questions-son-doong-cave
Son Doong Cave is really a spectacular landscape bestowed by the Mother of Nature to Quang Binh in particular and Vietnam in general. As being the largest cave in the world, Son Doong hides in itself numerous natural mysterious and interesting things.
Son Doong becomes one of the hottest destinatons in Vietnam tour packages from 2014. Since the introduction of Son Doong Cave on ABC program of the US - Good Morning America, many questioned are raised about Son Doong Cave tours - the tours of exploring the biggest cave in the world.
1. When was Son Doong discovered?
In 1991, a local man named Ho Khanh came to Phong Nha Ke Bang National Park to collect firewood and suddenly got lost in a strange area where there was a huge cave in the limestone mountain cliff with a giant ceiling hole full of sunlight. He also recognized that there is a river running into the cave. Yet, until April 2009, as the request of a caving exploration team from UK, Mr. Ho Khanh could find the cave again and instructed the exploration team led by Howart Limbert to discover Son Doong Cave.
2. Where Son Doong's name comes from
?
In Vietnam tours to Phong Nha Ke Bang, tourists who are introduced about Son Doong often wonder the name the the world's biggest cave. Initially, Son Doong was named Ho Khanh as he discovered the cave. Later, it was suggested to change the name into "Sơn Đoòng" because the cave hides behind majestic mountains of Đoòng Village, and because there is a river running in the cave.
3. Why is Son Doong the world's biggest cave?
Son Doong Cave has the length of about 5km, the height of 200m, and the wide of 150m. According to Conde Nast Traveler, the cave can occupy a big house in Manhattan, US equivalent to a 40-floor building. Inside the cave, there is a separate ecosystem formed by the sunlight from ceiling holes and clouds. The stalagmites in Son Doong Cave reach the height of nearly 80m. The lime stones sized baseballs scatter throughout the cave floor. The spectacular underground scenery shows that there are many beautiful landscapes in the world to discovery.
4. How does it cost a Son Doong tour?
There are two rates of tours to Son Doong exploited by a travel agent: about 3,000 USD for foreign traveler and 64.5 million dong for Vietnamese traveler. The rate is being applied for the whole year of 2015. In 2014, there were about 500 travelers visiting Son Doong. Since the beginning of 2015, the number is about 200 travelers. To serve a Son Doong tour of 10 people, there is a support of more than 30 people. Apart from porters bringing supplies and cooking, there are caving experts and safety experts in Son Doong tours.
5. How to visit Son Doong?
To take part in Vietnam tours to Son Doong, you have to register with the travel agent and wait for your turn. However, travelers have to undergo two severe theory and practice tests. If not passing the tests, travelers cannot join tours to Son Doong. It is because Son Doong exploration is adventure tours. During the journey, travelers have to walk more than 50km through jungles, rough routes, big stone blocks... Explorers will sleep in rents and have a bath according to the preparation of the travel agent. Travelers will join a tour without modern facilities, like a wild life.
6. When is the best time to visit Son Doong?
The best time to travel Son Doong is from February to August. The rest months are rainy season, which is very dangerous to travelers. From February to April, the weather in Son Doong is very cool. It is perfect to discover the cave. Yet, it is a little cold at night. From May to August, it is hot and humid weather. Therefore, travelers have to prepare a good health before the trip.
7. What to bring from Son Doong?
It is a big note that travelers must not take any thing from Son Doong. Travelers are not allowed to litter, break trees, defoliate leaves, absolutely not touch anything in the cave when the experts have not allowed, because the stalactites are still in process of formation, just a touch can make stalactite stop the development process. It is important that what you bring into the cave must be brought out. Not touching the stalactites also protects your health because many things in the cave have not checked.
8. How long of waiting for a Son Doong tour?
Tours to Son Doong is full for the year of 2015. If you want to register for the next year's tour, you have to wait for the specific evaluation of experts about the affection of tours to the environment. If the affection is high and affects the ecosystem of the cave, the travel company will stop tours to reserve the original beauty of Son Doong Cave. However, it is no hopeless about Son Doong tours. If having enough financial budget and health, do not hesitate to book a tour to Son Doong. If some one quits the tour in the last minutes, you may be chosen.
9. Is it available private tours to Son Doong?
Any individual or organization visiting Son Doong without the allowance of the management board of Phong Nha Ke Bang National Park is seen to violate the law. Thus, you can join the adventure tour with the travel company having the right. It is the best way.
10. What about other attractions beside Son Doong?
During the waiting time for taking part in tours to Son Doong Cave, you can choose other tours such as Phong Nha Ke Bang tours to caves of Tu Lan, Swallow Cave, Paradise Cave, and Phong Nha Cave. Phong Nha Ke Bang National Park has many interesting services for tourists to enjoy Vietnam holidays in this national park.
More info:
http://wikitravel.org/en/Phong_Nha-Ke_Bang
Son Doong Cave exploration in 2016
http://sondoongcavetour.abstravel.asia/son-doong-cave-tour-exploration.html
The most beautiful pictures about Son Doong Cave
http://www.telegraph.co.uk/news/picturegalleries/earth/10914205/In-pictures-Inside-Hang-Son-Doong-the-worlds-largest-caves-in-Vietnam.html?frame=2948977
http://www.sondoongcave.org/photos-gallery/sondoongcave-5.html