Best budget hotels in Tokyo, Japan
10 of the best budget hotels in Tokyo
Tokyo has a good spread of hotels at great-value rates, from traditional ryokans to cheap and cheerful business hotels in the heart of Shinjuku, says Richard Smart
• As featured in our Tokyo city guide
Khaosan Tokyo Guest House Ninja
One of the cheapest places to stay in the city, the Khaosan Tokyo Guest House Ninja is a popular spot for backpackers. The communal space in the hotel features free Wi-Fi and a large TV with cable, and the dormitory-style rooms (no doubles – not ideal for couples) accommodate both short- and long-term guests. The hotel encourages a community spirit among guests, which is rare for Tokyo, and often holds parties for residents.
• 2-5-1 Nihombashi Bakurocho, Chuo-ku, +81 3 6905 9205, khaosan-tokyo.com, twin rooms from £40, dormitory cabin beds from £21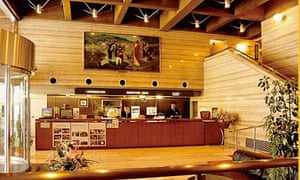 This YMCA is not as cheap as many of its counterparts in other cities, but that's because there is little difference between this hostel and a hotel. Rooms are a little small, but most feature an en suite bathroom and wireless internet. The hostel is run by the Japan branch of the South Korean YMCA, and as such attracts a lot of tourists from that part of the world. The hostel also has numerous large rooms for functions and conferences, and so can often be quite busy during the day.
• 2-5-5 Sarugakucho, Chiyoda-ku, +81 3 3233 0611, ymcajapan.org/ayc/hotel/jp, doubles from £96
Ryokan Sansuiso - Shibuya
Shibuya junction. Photograph: Patrick Batchelder/Alamy Patrick Batchelder / Alamy/Alamy
Offering very simple rooms for very low prices this hotel is located in the somewhat unfashionable Gotanda district, but its major appeal is its close proximity to many other places, such as Shibuya, Ebisu and Roppongi. It's quiet, the rooms all have futon beds, and there is a shared bath. The ryokan closes its doors at midnight, however, so may not be the best option for party animals. Rooms are available for up to three people, and come with TV, wireless internet and aircon.
• 2-9-5 Higashi Gotanda, Shinagawa-ku, Gotanda, +81 3 3441 7475, sansuiso.net, doubles from ¥8,600 (£71)
This is one of Tokyo's most popular hotels for tourists on package holidays. It's essentially a cheap and cheerful business hotel – the furnishing is basic, but its location and prices take some beating. It's in the heart of Shinjuku, the perfect place for travellers looking to experience city life. As may be expected, food in the hotel's restaurants is worth skipping in favour of heading out into the streets and experiencing the local izakayas. All rooms have internet access, and Wi-Fi is available in the lobby.
• 2-3-1 Yoyogi, Shibuya-ku, Shinjuku, +81 3 3375 3211, hotelsunrouteplazashinjuku.jp, doubles from £110
Unusually for Tokyo, this smart-looking ryokan caters almost exclusively for foreigners, and so the staff are well-informed on what the city has to offer and are often willing to help organise tours or cultural events. The communal living room is often lively, and in summer there is also a rooftop balcony. Kimi Ryokan has seen many long-term residents of Japan pass through its doors as they start on their way to making a life in the country, and the advice the staff give newcomers can be invaluable. Bathrooms in the ryokan are all shared, but are very clean. The smallest room sleeps four, the largest eight, and rates drop according to how many people are sharing the room.
• 36-8-2 Ikebukuro, Toshima-ku, +81 3 3971 3766, kimiryokan.jp, beds from £24
Located in a quiet corner of the bustling city, and offering guests simple amenities, the Tokyu Stay Shibuya is more of a business hotel than a place for tourists, but rates are reasonable and as well as having internet access, rooms also come with kitchenettes including sink, fridge and microwave, and washer/dryers. For visitors staying at the hotel for more than six days, rooms are cleaned once a week. Often this Shibuya branch of the chain will be fully booked, but Tokyu has hotels at many other locations across the city, almost always close to railway stations.
• 8-14 Shinsencho, Shibuya-ku, +81 3 3477 1091, tokyustay.co.jp/e/hotel/SIB, doubles from £141
Shitamachi district, Tokyo. Photograph: Judy Bellah / Alamy Judy Bellah / Alamy/Alamy
This is one of the cheapest places in town (you could stay here for a week for less than a night at a mid-range hotel) and the decor inside the rooms admittedly minimal. But it has satellite TV and Wi-Fi on all floors, and there's a kitchen and coin laundry between 7am and 10pm. Bathrooms are shared. Located in Taito ward, Hoteiya is a good place to stay for visitors wanting to see Tokyo's Shitamachi (downtown) areas. The hotel expects visitors to bring their own towels and toothbrushes, and while there is not a curfew, guests partying until late into the night will be frowned upon. While the surroundings are not luxurious, this is a popular hotel for people travelling on a shoestring.
• 1-23-9 Nihonzutsumi, Taito-ku, +81 3 3875 5912, spocom.net/pc/hoteiya_e.shtml, doubles from £31
Located in the Yanaka area of north-east Tokyo, close to the Ginza shopping street and in the centre of one of Tokyo's friendliest neighbourhoods, Ryokan Katsutaro has simple rooms that can sleep up to four, and Wi-Fi is available throughout. It also has bicycles available for rent for visitors wishing to explore the surrounding area (£1.70 a day). This area of Tokyo has in recent years seen the opening of several galleries and museums, and is perfect for tourists looking to explore the city's art scene.
• 4-16-8 Ikenohata, Taito-ku, +81 3 3828 2500, katsutaro.com, doubles from £70
Shinjuku Washington Hotel
Here you can find reasonable rates right in the centre of the Shinjuku skyscraper district. Room facilities include high-speed internet, air-conditioning and fridges. The hotel's restaurants and bars are perhaps better avoided: steep prices make eating out nearby much better value. Rooms are simply decorated, and large enough to be comfortable, and there are decent views from the upper floors. Be sure to visit the Tokyo Metropolitan Government offices across the road, where it is free to get to the top of the skyscrapers and see spectacular views of the city.
• 3-2-9 Nishi-Shinjuku, Shinjuku-ku, +81 3 3343 3111, shinjyuku-wh.com/english, doubles from £124
This place is close to the centre of the city in the Jimbocho district, with the Imperial Palace a short walk away. The rooms are a little on the small side, but the hotel is clean, convenient and comfortable. A 24-hour cafe in the lobby serves as a communal space for those looking to socialise while in the city, and there are dormitory beds for backpackers and group rooms at reasonable rates. In busy periods, the hotel gets full very quickly, so be sure to book well in advance.
• 2-21-4 Kanda-Jimbocho, Chiyoda-ku, Tokyo, +81 3 3261 3939, sakura-hotel.co.jp, doubles from £68
For more information go to the Japan National Tourism Organisation's website: jnto.go.jp/eng
• Richard Smart is a freelance writer based in Tokyo