Best budget hotels in Paris, France
10 of the best budget hotels in Paris
Source:
http://www.theguardian.com/travel/2011/may/06/top-10-budget-hotels-paris
Hotel Georgette
A little style goes a long way in this hotel, which recently changed its name from Hôtel du Séjour to go along with its facelift to an arty boutique hotel. Not all of the rooms have been given a facelift yet, so request one if you want the white duvets and pop art wall decor instead of the traditional décor. Either way, make sure you get a room with en-suite bathroom (or get the cheaper room with the shared facilities in the hall). The best part about this family-run hotel is its location, straddling the Marais and Montorgueil districts just above Les Halles RER station. Skip the hotel breakfast and eat at one of the cafes overlooking the Centre Pompidou around the corner.
• 36 rue Grenier Saint Lazare, 3rd, +33 1 4887 4036, georgette.com. Métro: Rambuteau. Doubles from €87
Absolute Budget
The name says it all, but at least in this case budget doesn't mean bland. Opened in 2010, this hostel cuts corners in size, but the feel is light and cheerful. The private rooms are really worth the extra euros, spacious and equipped with their own bathrooms. This is a humble residential district near Père Lachaise and Belleville's artist ateliers. And if you plan on partying the night away in the hip bars and clubs of Paris's popular Oberkampf district, you're well placed for an easy stumble into your bed at dawn.
• 1 rue de la Fontaine au Roi, 11th, +33 1 4700 4700, absolute-paris.com. Métro: Goncourt. Private doubles from €80, shared dorm rooms from €30pp
Hôtel Ecole Centrale
The ladies who run this little hotel take great pains in decorating every square inch of space with exotic plants, potted palms, and vases of flowers for a lush and cosy atmosphere. Stone floors, wrought iron railings and hand painted walls with a Tuscan theme border on kitsch, but you can't say the owners have let the place go. Air conditioning, free Wi-Fi, and early check-in on request. The top floor room under the gables has a Jacuzzi, but you'll have to climb a few stairs. Outside you're a few steps from the Marais and the newly opened Gaité Lyrique Digital Arts Centre.
• 3 rue Bailly, 3rd, +33 1 4804 7776, hotelecolecentrale.fr. Métro: Arts-et-Métiers. Doubles from €80
Hôtel de la Herse d'Or
Sometimes it's the little details that matter. This hotel right in the heart of the lively Marais district has free Wi-Fi, flatscreen TVs, and hair dryers in each room. Of course, a four-century old hotel may have ancient marble fireplace mantels and beamed ceilings, but don't expect a lift or air conditioning. Pack light and if you're a light sleeper request one of the rooms facing the two interior courtyards, not the busy street. The "economic" rooms have just a wash basin, shared facilities are in the hall. The "comfort" rooms have en-suite facilities.
• 20 rue Saint-Antoine, 4th, +33 1 4887 8409, hotel-herse-dor.com. Métro: Saint-Paul. Doubles from €79
Related posts:
Port Royal Hôtel
This humble but proud little hotel on the edge of the Latin Quarter has been owned by the same family for four generations with a reputation for scrupulously clean rooms and friendly service. Forget about TVs, free toiletries or Wi-Fi. The least expensive rooms have just a washbasin, but even rooms with full en-suite facilities are under €100. That's quite a steal for the excellent location right by the Mouffetard market and the Jardin des Plantes. Note that credit cards are not accepted and only ground floor rooms have air conditioning.
• 8 boulevard Port Royal, 5th, +33 1 4331 7006, hotelportroyal.fr. Métro: Gobelins. Doubles from €53
Welcome Hôtel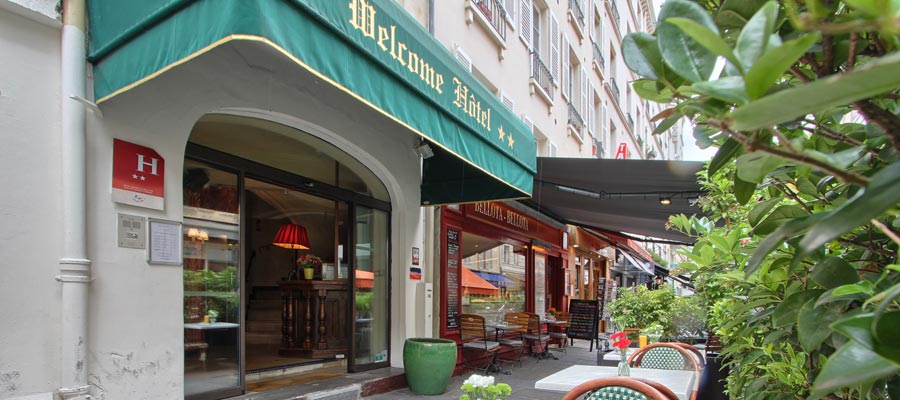 Most rooms in this neighbourhood cost four times the rate of a double at this charming little budget hotel. True, there's no air conditioning and many rooms are facing the noisy boulevard Saint-Germain, so light sleepers beware (or get a courtyard-facing room and forget about great people-watching from your window). You'll find it a lot easier to ignore the chintz when you discover the best gelato stand in Paris across the street, not to mention the chocolate boutique, wine bar and fresh food market next door.
• 66 rue de Seine, 6th, +33 1 4634 2480, hotelwelcomeparis.com. Métro: Mabillon. Doubles from €97
Oops! Hostel
One of the city's first "design" hostels offers both dorm rooms and budget-priced private rooms with contemporary wallpaper in bright colours, a small internet lounge, and some even have small balconies overlooking the bustling avenue des Gobelins. The location, 10 minutes from the centre of town, is hard to beat, with major Métro and bus lines, two open air food markets, cafes, cinemas, shops and the 17th-century Gobelins Tapestry Manufacturer right next door. Bring your own towels or rent one from the front desk.
• 50 avenue des Gobelins, 13th, +33 1 4707 4700, oops-paris.com. Métro: Gobelins. Private double rooms from €70, shared dorm rooms from €30pp
Plug Inn Boutique Hostel
If you love the cobblestone streets and the scenic, if steep, staircases of Montmartre, this "design hostel" on a quiet side street is for you. Recently converted from a ho-hum budget hotel, rooms now have designer wallpaper, colourful carpeting and en-suite bathrooms with hair dryers (in addition to the standard steel-frame bunks, of course). Free Wi-Fi and computer terminals will keep you connected, and there's no curfew or lock out. Private rooms have flatscreen TVs and real beds. As in most hostels, light sleepers will need ear plugs at the Plug Inn.
• 7 rue Aristide Bruant, 18th, +33 1 4258 4258, plug-inn.fr. Métro: Abbesses. Private double rooms from €90, shared dorm rooms from €32pp
Le Montclair Hostel
If you like the idea of Montmartre but not the tourists, try a taste of the tourist-free residential side of the Butte. This hostel offers private or dorm rooms, both with or without private facilities, free continental breakfast, and access to internet, fax, hair dryers and the kitchen. You can stock up on supplies in the nearby market street. There's no lockout or curfew, handy if you plan on being out late on the other side of town. As for décor and space ... well, it's a youth hostel, not the Four Seasons.
• 62 Rue Ramey, 18th, +33 1 4606 4607, montclair-hostel.com. Métro: Jules Joffrin. Private doubles from €38pp, shared dorm rooms from €29
St Christopher's Inn
This impressive, purpose-built hostel right on the Canal St Martin opened in 2008 with a resolutely modern and spacious layout catering directly to the needs of its young, international clientele. Amenities include a large and lively restaurant bar with live music, a soundproof lower level club so they can turn the music up or screen films, and rooms with individual bed lockers and privacy curtains. There's even a women-only floor for those who don't want to mingle too closely. The neighbourhood is not central in any sense, but the nearby Métro and bike rental give it easy access to the major sites.
• 159 rue de Crimée, 19th, +44 (0)20-8600 7500 (booking office in London), st-christophers.co.uk. Métro: Crimée. Private doubles from €49pp, shared dorm rooms from €35pp
Related posts:
The 10 Best Paris Hotels on TripAdvisor
http://www.tripadvisor.com/Hotels-g187147-Paris_Ile_de_France-Hotels.html
PARIS HOTELS FOR UNDER £200
http://www.cntraveller.com/recommended/hotels/best-boutique-hotels-in-paris
More:
http://www.telegraph.co.uk/travel/hotel/36309/Paris-hotels.html