Best budget hotels in Marrakech, Morocco
Le Meridien N'Fis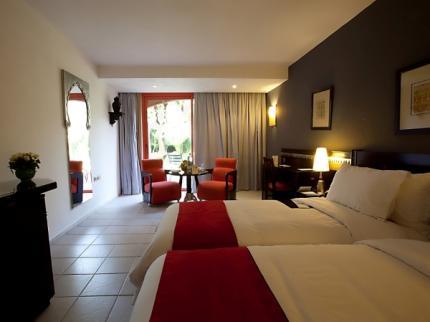 Address: Avenue Mohammed VI, Marrakech 40000, Morocco
Price: from 82$
This is a beautiful Hotel, excellent service, good food, silent, peaceful architecture, nice rooms, clean, relaxed pool, nice garden, take a room with garden/pool access and have your breakfast in the morning on the balcony.
Marrakech Ryads Parc & Spa by Blue Sea
Address: Douer Ouled Benrrahmoun | El Bour, Marrakech 40000, Morocco
Price: from 49$
A comment from Mark H Nuneaton, UK: The plus sides : Clean rooms, lovely grounds, excellent pool, food (all inclusive) The negatives : Some of the staff are rude & ignorant(until they see you can speak a little French). Learn the basics (greetings & other phrases before you go...in will stand you in good stead). Please remember you're in a different country, different cultures, different religions...So just embrace
Related posts:
Atlas Medina & Spa
Address: Ave Hassan 1er, Marrakech 40000, Morocco
Price: from 70$
The rooms are spacious and clean. The bathrooms have a separation between toilet with bidet and the powder room/tub shower area. The landings are all carpeted and the windows double glazed to ensure a quiet and relaxing stay.
Riad Dar Najat
Address: Derb Lalla Chacha 18 | Douar Graoua, Marrakech 40000, Morocco
Price: from 70$
The service is flawless and classy without being overbearing. The Riad is well appointed, beautiful and authentic, you truly get the full Moroccan flavor, charming atmosphere in a more than comfortable setting. This small hotel is just wonderful and offers a traveler everything they could possible wish for.
Riad Menzeh
Address: 34 derb El Arsa | Sidi Ayoub, Marrakech 40000, Morocco
Price: from 58$
This is a beautiful hotels with comfy beds, good Wi-Fi, great location, and most of all, you truly feel you are away from wherever you came from when you stay here. The attention to detail at this Riad is beyond exquisite. Jamal and Yassine are beyond hospitable and are only concerned about you and the time your having in Marrakech.
Moroccan House Hotel
Address: 3, Rue Loubnane | Guéliz, Marrakech, Morocco
Price: from 34$
Excellent Hotel, close to New Town and really quiet. Lots of Bars and Restaurant near by but the cooking in this Hotel is really Nice. An unsuited Room which was so spacious and very comfy.
Related posts: